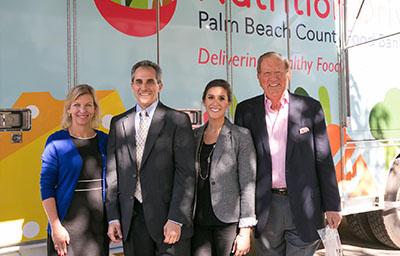 The Palm Beach County Food Bank took a major step in addressing hunger and nutrition needs in Palm Beach County with the Dec. 17 launch of its Nutrition Driven program. Community leaders gathered at the Center for Philanthropy in West Palm Beach to witness the unveiling of the new program.
Palm Beach County Food Bank Executive Director Perry Borman announced that the Nutrition Driven Program will enable the nonprofit agency to achieve its mission by increasing the amount of healthy, fresh food distributed directly to residents in their own neighborhoods; educating partner agencies and recipients about good eating habits and food preparation techniques through a core nutrition educational curriculum; and supporting broader efforts in the community related to increasing healthier eating, improving diabetes prevention, reducing childhood obesity and promoting the use of local agricultural products.
One of the most important aspects of the program is the eight-module healthy eating education program, to be provided through a partnership with the University of Florida Institute of Food and Agriculture Sciences. The IFAS Expanded Food and Nutrition Education Program will educate families about the benefits of healthy eating and how poor eating choices can contribute to chronic conditions such as diabetes and heart disease.
To make sure that the information is provided in a culturally competent manner, paraprofessionals familiar with the cultural norms of the communities to be served by Nutrition Driven will provide the nutrition education and will assist in the food distribution.
"Nutrition Driven increases the scope and impact of our fight against hunger and food insecurity by delivering healthy, nutritious food to communities with limited resources," Borman said. "The Nutrition Driven team includes a trained professional to educate recipients and to teach them how to prepare healthy recipes with fresh, locally grown food."
Nutrition Driven will travel to underserved communities, delivering its services in partnership with host partner sites located in Title I school areas (where 60 percent or more of the students' families have incomes at or below the national poverty level) and food deserts where there are few or no major food stores offering a variety of affordable fresh and healthy foods.
Community & School Health Division Director of the Palm Beach County Health Department Dr. Marsha Fishbane said that the need for Nutrition Driven is great.
"Foods that are high in salt and saturated fat and excess sugars are generally more accessible and affordable, but there is a higher price to pay with health problems such as obesity, diabetes and heart disease often associated with this type of diet," she said. "This is an important societal issue that Nutrition Driven is designed to address."
Statistics show that 36 percent of first through fifth graders in Palm Beach County are overweight or obese, while Florida's obesity rate for Baby Boomers is 30.7 percent. The obesity rate for seniors in Florida is 22.9 percent, while the young adult obesity rate in Florida is 14.6 percent.
"Nutrition Driven will help the Palm Beach County Food Bank achieve its goal to not only help more people survive by feeding them, but to help them thrive by teaching them how to choose healthy foods on a limited income," Borman said.
From a centralized location in Lantana, the Palm Beach County Food Bank rescues, collects and distributes food at no cost to more than 100 agencies that take on the daily responsibility of feeding the hungry. During the 2013-14 fiscal year, the Palm County Food Bank provided nearly 5 million pounds of food that was distributed to at least 80,000 individuals. For more info., visit www.pbcfoodbank.org or call (561) 670-2518.
ABOVE: Laurie George, Perry Borman, Britnye Underwood and Brian McIver. Photo by Capehart Photography