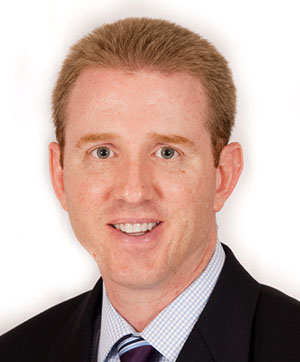 The Wellington Village Council unanimously selected attorney John McGovern on Tuesday from among more than 20 candidates seeking to replace former Councilman Howard Coates.
McGovern thanked council members for his appointment.
"I think this was a very interesting process for all of us who applied, and I think there were many, many outstanding candidates," he said in accepting the appointment. "I'm proud to have been chosen from among them. I think it says this community is loved and this community has many people who are willing to serve, as you all serve, and I think that is a wonderful thing."
McGovern, who grew up in Wellington, said he was proud to be joining the council. He will take his seat next month.
"All I can say is that I hope to make you proud, and I will work hard to earn the people's approval and to continue to make Wellington the great place that it is," he said.
McGovern moved to Wellington in 1986 and was a member of the first graduating class to attend a full four years at Wellington High School.
"I applied for the council opening because I felt it was a unique opportunity to serve the community where I grew up and where my children are growing up — the community that I love," he told the Town-Crier on Wednesday.
His goals are to bring a unique perspective to the council.
"I think I'll be the first person to serve on the council who grew up in Wellington, having a chance to shape its future," McGovern said. "That's what I'm really looking forward to. To say that I have an agenda or an idea of one particular thing with a term of only one year I don't think is really the best practice, but I know why I'm doing this and I know who I'm doing it for."
He will be up for re-election next year for the remaining two years of Coates' four-year term, and will consider running when the time comes.
"I think anybody who applied for the seat should be thinking that way," McGovern said. "Certainly, I am considering it. That being said, having not done the job for one day, not knowing if I would be good at it or not, I'm not committing myself one way or another."
He said he doesn't know if his being an attorney had anything to do with his selection, since Coates had been the sole attorney on the council. "I wouldn't presume to put myself into speaking for any of them, but I certainly think that it is a good thing, particularly on a municipal council, to have an attorney, and I'm honored to be the attorney following now-Judge Coates," he said.
McGovern, whose law office is in Lake Worth, said he has no special interest or agenda to push with the council.
"I don't have any personal business interest in Wellington," he said. "I'm in Wellington like the vast majority of our full-time residents. I'm there because it's my home and a great place to raise my children, so I don't come in with any preconceived notion or agenda or interest, financial or otherwise."
During his presentation to council members on Monday, McGovern said that unlike in Washington and Tallahassee, he believes that the people of Wellington hold to the idea that good policy decisions come not from the extremes of one side or another, but from finding the middle ground.
"Certainly, I think there are issues upon which to stand your ground, but I don't think that's every issue, and I think that in a nonpartisan council role such as this, the motivating force has to be to find common ground, therefore it is the middle ground that moves the village forward," he said.
McGovern added that Wellington has tough challenges, but that all vibrant, forward-thinking communities do.
"In Wellington, there is great diversity and a lot of competing interests, and I think that is the greatness of Wellington, but keeping all of those groups and interests in the boat, involved and rowing in the same direction, is a challenge," he said. "This is particularly so in a governmental context when you're dealing with fixed revenues and a budget, and there will always be people who would want to do more than the budget might allow. Then you have to make the tough choices."
He believes the equestrian industry and the Equestrian Preserve Area are vital to the success of the village. "I think that we are uniquely blessed to have a thriving equestrian industry operating as a core economic engine in our community," McGovern said.
He also wants to revitalize older communities in the village while building new ones.
"I think that Wellington should be crafting policies to be supportive of both those groups of people, those who are moving into the new neighborhoods… and those who live in the parts of Wellington and the neighborhoods that have been there for 30 or so years," McGovern said.
Regarding the controversial K-Park parcel on State Road 7, he said he thinks the council made a wise decision to keep it designated as park space, and does not feel there was a lot of difference in the viewpoints of Vice Mayor John Greene, who voted against the motion, and those of Mayor Bob Margolis and Councilman Matt Willhite.
"That is, as we heard from all the residents, the last great, large significant green space, particularly in that corridor," McGovern said. "Therefore, if we're not absolutely sure, including with the support of the residents, of what to do there, I think the right decision is to do nothing, and I think that's often the case. If you're not sure, then don't act yet. That doesn't mean don't ever act, but don't act today."
McGovern said he views his appointment as a great responsibility.
"I am very proud to have the opportunity to come back and serve, and especially proud to have been listed on all four of the council members' ballots," he said. "I hope to prove worthy of their votes and make the people of Wellington proud."
During the scoring on Tuesday, Vice Mayor John Greene and Councilman Matt Willhite both gave McGovern the maximum 5 points and did not rank any other candidates.
Mayor Bob Margolis gave Matthew Kurit 5 points, Ernie Zimmerman 4 points, Carol Coleman 3 points, McGovern 2 points and Ellie Halperin 1 point.
Councilwoman Anne Gerwig gave Michael Drahos 5 points, Randall Laurich 4 points, Michael Posner 3 points, McGovern 2 points and Halperin 1 point.
Total points were McGovern 14, Drahos 5, Kurit 5, Laurich 4, Zimmerman 4, Coleman 3, Posner 3 and Halperin 2.
Gerwig made a motion to appoint Drahos, which died for lack of a second, and then Greene made a motion to appoint McGovern, which carried 4-0.
McGovern will be sworn in at the council's next meeting on Tuesday, Feb. 10.
ABOVE: John McGovern