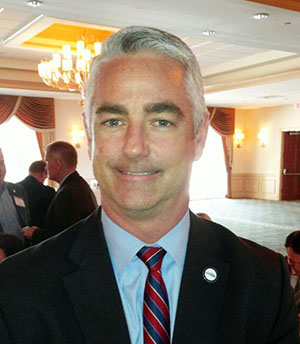 Brad Swanson, vice president of strategic partnerships with the Florida Chamber of Commerce, spoke about his organization's relationship with local chambers of commerce at the Central Palm Beach County Chamber of Commerce's economic forum luncheon Tuesday at the Binks Forest Golf Club in Wellington.
"The Florida Chamber is a separate chamber like your chamber is its own body, but we work together in what's called the Florida Chamber Federation," he explained. "While your chamber is the front line of the fight for free enterprise, we depend on your chamber… to both look at and see the issues that are arising for businesses both large and small."
Swanson noted that the Florida Chamber has a 40-member government affairs team in Tallahassee with a full-time staff member dedicated to local chamber issues. That person has statewide conference calls with local chambers monthly when the legislature is not in session. Those calls take place weekly when the legislature is in session.
"During session, every Monday, we invite local chambers to call in to a policy conference call to let them know what is happening in the coming week and what issues are going to be pressing," Swanson said. "That combined grassroots network is where the business community and the voice of business gets its strength. We, like your chamber, get our strength from our members."
Each year, the Florida Chamber produces a legislative agenda that is developed through member surveys to see what the business community thinks are the most pressing issues, then meets with legislative representatives on where opportunities are for Florida businesses.
"We have to face some very real facts in Florida and the landscape that Florida finds itself in as a competitive body," Swanson said. "As we look at recruiting businesses and growing businesses, there are 49 other opportunities in the United States and multiple opportunities globally for businesses to locate."
With an $800 billion economy, though, Florida is a formidable contender in the global market, he said. "If we were a country, we would be the 19th-largest country in the world," Swanson said. "Think of Florida from that perspective and think of the size and scale and scope of Palm Beach County. You're a major driver of what is, in effect, the 19th-largest country on the planet, and from a global competitiveness standpoint, that's where the business communities can defend themselves across the business spectrum."
He also pointed out that Florida, with 19 million residents, recently surpassed New York in population.
"What was overlooked is Florida has about a $78 billion budget, but New York just passed about a $150 billion budget," he said. "Same amount of people, but twice the expense on their governance. Your county commissioners, your city councils, your state government, we're running at about half the cost of our next-largest competitor."
Florida expects to add another 6 million people by 2030. "The reason I mention 2030 is that is the benchmark a lot of our researchers have looked at," Swanson said. "What we at the Florida Chamber will do, we will look at the entire economy and look at the gaps. We have 6 million more people; that means we're going to need 70 percent more energy and 28 percent more water."
In the nearer term, Florida's population will have grown by 280,000 by the end of 2015. "Where are we going to put those people, and how are we going to grow our job opportunities for those new citizens?" he asked.
Florida has added 728,000 new jobs since 2010, Swanson said. "Unemployment right now is at 5.6 [percent]," he said. "In 2015, we're predicting that Florida is going to create 250,000 new jobs."
Swanson said he meets many old-line Floridians across the state who ask him when they're going back to the good old days of an agrarian, development and tourism economy.
"Florida is at a point where we must diversify our economy and build upon tourism and agriculture and development," he said. "That's the first floor of our economy, but we must diversify, and Palm Beach County, obviously with Scripps and everything else, has been at the forefront of that, but many other places in the state are not there yet."
Meanwhile, four out of five new jobs will be created by small businesses.
"That's where those jobs are going to come from," Swanson said. "We have eliminated more than 3,000 regulations over the past four years… It's not very sexy, but those are the difference-makers that make small businesses have those new opportunities to succeed."
ABOVE: Brad Swanson