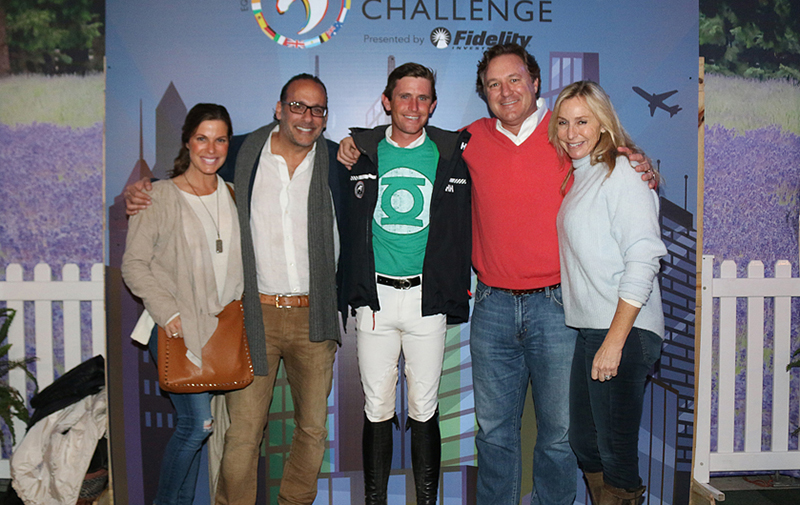 The superheroes who landed last week at the Palm Beach International Equestrian Center amazed thousands as they leaped and soared Saturday, Feb. 7 at the sixth annual Great Charity Challenge, presented by Fidelity Investments, at the Winter Equestrian Festival.
Professional and amateur riders, along with their equine sidekicks, entertained the thousands who came out to watch them and root for their favorite charities in a night full of fun, games, surprises and more. Many riders were dressed as superheroes to match the evening theme.
"I want to thank everyone who has participated here," said Mark Bellissimo, CEO of Equestrian Sport Productions and co-founder of the Great Charity Challenge, before the competition. "The theme this year is superheroes. That represents the superheroes who are the riders who donate their time, the equestrian families who donate their money, the members of the community and our staff who operate this show and, finally, those amazing individuals who are the directors of these organizations who make unbelievable commitments to their passion. Without them, this community would be a different place."
Charities of every type participated in the event.
"It's overwhelming to see so many great organizations being represented here tonight," said Anne Caroline Valtin, executive director of the Great Charity Challenge. "We came up with this theme, and we thought it would tie the whole event together, but you guys have gone above and beyond on your own time to make this special."
Thirty-four of the hundreds of charities that put their names in the hat for the Great Charity Challenge were selected to participate and walked away with a check for at least $15,000 last Saturday evening.
Riders Juan Carlos Maurin, Emanuel Andrade and Victoria Karam had the fastest time of the night, riding for Danny and Ron's Rescue and earning the nonprofit $150,000. The team was sponsored by Hollow Creek Farm and corporate sponsor Gold Coast Feed & Supply.
Coming in second place was the team of Sydney Shulman, Cloe Hymowitz and Alexa Effron, riding for Propel. That team, sponsored by Back Country Farm and corporate sponsor Visse Wedell, earned $125,000 for their charity.
The Kids Cancer Foundation finished third and won $112,500 on a strong effort by riders Darragh Kenny, Allison Epstein and Andre Mershad, sponsored by Mershad Stables and corporate sponsor La Victoria Farm.
Every participating charity received something, based on a sliding scale. The Connor Moran Children's Cancer Foundation received $100,000; Communities in Schools won $80,000; the National Wheelchair Sports Fund won $75,000; the Arc of the Glades won $65,000; Urban Youth Impact received $60,000 and took second place in the costume contest, winning an additional $5,000; Paws for Liberty won $50,000; Seagull Services won $40,000; Adopt-A-Family of the Palm Beaches won $30,000; Take Stock in Children Palm Beach County won $26,000 and took third in the costume contest, winning an additional $2,500; the Wycliffe Charities Foundation won $25,500; the Blue Sky Foundation won $25,000; the Wellington PTA/PTO/PTSA won $24,500; the Oasis Compassion Agency won $24,000; Leadership Palm Beach County won $23,500; CROS Ministries received $23,000; Alzheimer's Community Care took home $22,500; the Equestrian Aid Foundation won $22,000 and took first place in the costume contest, winning an additional $7,500; Restoration Bridge won $21,500; Horses Healing Hearts won $21,000; First Care Family Resources won $20,500; the American Association of Caregiving Youth won $20,000; Helping Hands Assistance Programs took home $19,500; Family Promise of South Palm Beach County won $19,000; the Christopher Aguirre Memorial Foundation won $18,500; Breaking the Chains took home $18,000; the Faulk Center for Counseling won $17,500; Big Brothers/Big Sisters of Palm Beach County won $17,000; Families First of Palm Beach won $16,500; Gratitude House won $16,000; Jeff Industries won $15,500; and Villages of Hope took home $15,000.
Many grants were also given out throughout the event, helping to make even more dreams come true. "The grants give us the opportunity to reach out to even more charities within the county, so we're helping even more people," Valtin said. "Each year, we try to include as many grants as we can, from a fundraising standpoint, just to make sure that we impact as many lives as possible."
Grants went out to the Boys & Girls Clubs of Palm Beach County, YWCA Palm Beach and Jack the Bike Man for $10,000 each; Clinics Can Help got $8,000; Friends of Foster Children got $6,000; Palm Beach Dramaworks and Animal Rescue of South Florida took home $5,000 each; YMCA of South Palm Beach County got $4,000; and the Children's Healing Institute got $2,000. Sports grants went to the Wellington Colts Travel Baseball for $5,000, the Western Community Football League for $4,000 and Wellington Wolves Basketball for $3,000.
"We were thrilled. I think that, honestly, the superhero theme brought the whole event together and truly made a difference," Valtin said. "You could feel it in the atmosphere, and the community got involved… It was very rewarding watching the crowd truly follow the event and being as into it as they were. It was a fantastic time for everyone."
On several different levels, she said, it exceeded expectations. More people turned out than ever before, and the charities were able to meet their sponsors and riders at a pre-party before the event, which was an important element.
"We're just extremely, extremely blessed to be surrounded by such philanthropic people," she said. "Whether its families or businesses, they truly believe in giving back to the community. Everyone is happy, and they're happy to help. It's just a fantastic event."
By reaching out to riders and sharing the stories on social media and the news, philanthropic awareness is raised, which helps the entire community, Valtin explained, going far beyond the original expectations for the Great Charity Challenge.
"Whether it's the charities, the sponsors, the riders — everyone played their role as a superhero that night, and it's all for the betterment of the community," Valtin said.
Meanwhile, all charities should be marking their calendars for the 2016 Great Charity Challenge. The opportunity to drop a card in the hat takes place from Oct. 1 through Nov. 15. For more information, visit www.greatcharitychallenge.com or www.facebook.com/greatcharitychallenge.