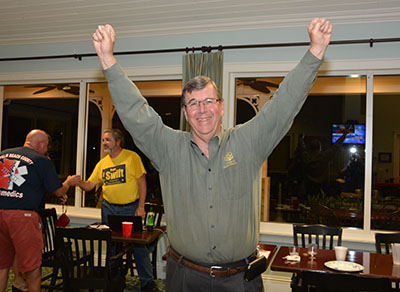 Incumbent Royal Palm Beach Vice Mayor David Swift handily claimed another two-year term in office Tuesday, March 10, winning a three-way race.
There were 1,406 votes cast in the race for Seat 2, the only item on the village ballot. Swift took 726 votes (51.6 percent), while former Councilwoman Martha Webster took 430 votes (30.6 percent) and former Planning & Zoning Commissioner Darrell Lange took 250 votes (17.8 percent), according to unofficial results from the Palm Beach County Supervisor of Elections Office.
Swift met with supporters after the polls closed Tuesday evening at the Village Golf Club. Once all the Royal Palm Beach precincts were in, he addressed the crowd.
"That was a great win, and I appreciate everything you do," he said. "I have got volunteers who have worked with me, some of them more than 20 years, and they always come out and give us a hand when it's needed. Without them, this could never happen. In this particular campaign, I think I was the most prepared I've ever been in 20 years."
While Swift has been winning elections in Royal Palm Beach since the 1980s, he thanked people who helped modernize his campaign style.
"We brought some new folks on. Our campaign manager, Jody Young, did a great job. It was my first jump into social media, and I think it was fairly successful," he said. "I learned all of that in the last four weeks. Anyways, thanks so much. Each year, you guys come out and spend the whole day and help, and I really do appreciate it."
After the results were in, Swift spoke to the Town-Crier about his campaign and his plans for the future.
"I didn't even have an iPhone until four weeks ago," he said with a chuckle. "Talk about a steep learning curve."
Learning how to use Facebook and a smartphone was new to Swift, but something that proved to be advantageous. "I was happy to come into the 21st century regarding campaigning," he said.
His approach had always been knocking on doors and talking to people. His last campaign, he noted, included a static web site. Adding Facebook allowed for more interactivity, and allowed him to reconnect with South Florida Water Management District colleagues and friends.
"I'm pleased that we won," Swift said. "I'd like to thank the residents who came out to vote, and those people who filed absentee ballots in my favor — I appreciate that very much. My platform was putting Royal Palm Beach first and politics second, and I think I've done that for a long period of time; people know me for that."
Wednesday, Swift said he would return to business. The issues don't go away after an election, he said.
"Starting tomorrow, we'll roll up our sleeves and address a number of issues that we're going to take a look at: addressing developing a senior living complex here in Royal Palm Beach, working on State Road 7 to get it extended to Northlake Blvd., [and the] Crestwood property that we're trying to work with Lennar Homes to make sure that it's compatible with the surrounding area," he said. "Those are some of the big things that I'm looking at for the next year."
There are four large projects, two south and two north of Okeechobee Blvd., he explained, and making sure that those projects are compatible with the surrounding areas is a high priority.
"My main goal, really, is to work on the senior living complex," he said. "I've got a lot of folks in their 70s and 80s who are very interested in being able to stay in Royal Palm Beach with their friends and live out their life down here and not in the snow."
He expects the senior living complex and other projects to keep him fairly busy over the next two years.
"There's a number of those projects that I'd like to see done. That's why I ran, and I'd like to see those completed, primarily," Swift said.
He was coy regarding his future plans personally. Asked if he would run again in 2017, Swift said, "It's too early to tell on that one."
He was also non-committal when it comes to what will happen when Royal Palm Beach Mayor Matty Mattioli steps down, which is expected next year. "We have a number of people who are interested, so we'll see what happens with that," Swift said.
Regarding the recent campaign, Swift feels it went well.
"This was kind of like a non-issue campaign, at least for me," he said, noting that the low turnout could be attributed to the lack of strife. "Really, we're in good economic shape, the council does work together well, we have a new park, taxes are low, schools are good — there's not a lot to complain about."
Of his opponents, Swift had positive things to say, though they might not be as happy with the results of the election as he is.
"Martha [Webster], she did a good job. I think she started late. She's a good campaigner. I know that she tries hard," he said. "There's nothing wrong with having a new face out there, as far as Darrell [Lange]'s concerned. I think that's really what his goal was, to become a known entity. I think you'll see him running again."
ABOVE: Royal Palm Beach Vice Mayor Dave Swift celebrates his re-election victory at the Village Golf Club Tuesday night. Photo by Denise Fleischman