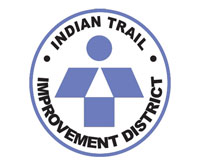 The Indian Trail Improvement District Board of Supervisors gave District Manager Jim Shallman a satisfactory rating on Wednesday, but no raise.
Human relations attorney Lara Donlon said that if Shallman's performance was deemed to be at least satisfactory based on an average score of evaluations submitted by board members, they may consider an increase in his base salary and benefits, subject to the budget.
"Additionally, for this year only, the contract provides that in the 2015 evaluation, if he receives a score of 4.0 or exceeds expectations, then the board shall increase his salary by $3,000," Donlon said. "Based on the evaluations submitted tonight, the score is 3.18, which is satisfactory."
She explained that the board has the option of giving Shallman a raise but is not required to.
Supervisor Michelle Damone said that there are other options in his contract for him to receive additional compensation, including completing a management course, which he had not. Shallman was promoted from accountant to manager in October 2013 after former District Administrator Tanya Quickel left.
"I will discuss my evaluation with Mr. Shallman one-on-one personally; however, the action of the board based on that score needs to be decided," Damone said. "I know this is a sensitive topic. It's hard to do it in public."
Supervisor Gary Dunkley said he had spoken with Shallman.
"We had a beautiful morning," Dunkley said. "We went around to different projects. I'm very pleased for the way that Jim came into this position with only accounting experience. He's gotten on-the-job training. He has more to go, but he's going in the right direction."
ITID President Carol Jacobs agreed with Dunkley.
"We basically lost all our staff, and everybody quit," Jacobs said. "He was without office help. He has been without HR for a while, and he had only basically one year. I think the district has been moving along quite well. There's always room for improvement, but this is a hard district, this is a hard board, this is a hard audience. I think he has done quite well. I'm glad we have you on board, and I'm glad we didn't scare you away."
Dunkley said that Shallman had improved, but he did not favor a raise. "Jim, I like you, but no raise until you finish the course," he said.
Jacobs said Shallman took the position in the middle of several major issues, including the Minto West proposal. "We had a lot of issues that he came into, we were short on staff," she said. "We've got to put ourselves in his shoes a little bit."
Supervisors Ralph Bair and Jennifer Hager also agreed to no raise.
Damone said she thought Shallman had the personality to be a good manager. "You have the ability to be a superstar if you choose to be," Damone said. "A year from now, it is my hope that we can give you a management course raise, a 4.0 raise. If the board is not giving you the tools to be successful, you let us know, and we need to make some adjustments."