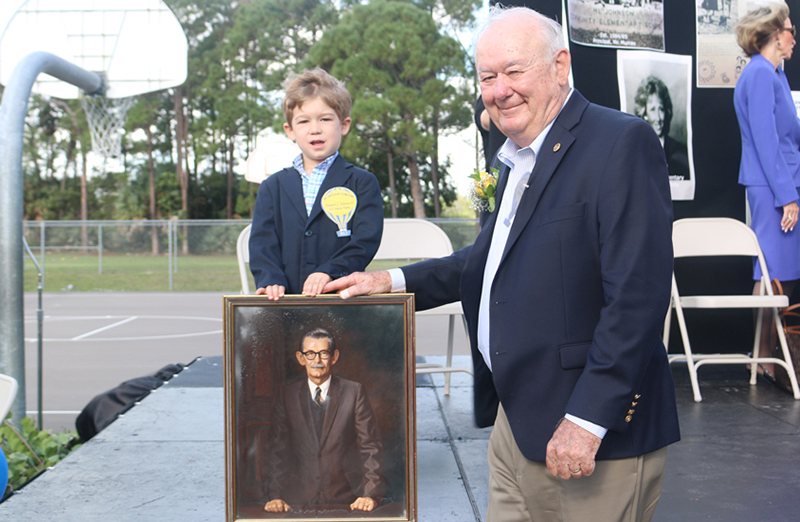 It has been 30 years since H.L. Johnson Elementary School opened its doors in Royal Palm Beach, and hundreds gathered to celebrate on Friday, March 13.
Aside from hundreds of current students and teachers, the celebration included more than 100 former students, former teachers, special guests and the family of school namesake H.L. Johnson.
"Each and every one of you have contributed in some way to the accomplishments of the students here, past and present, and I thank you all for coming," Principal Dr. Patti Lucas said, opening the event.
Joined by children Julie and Raymond Claudio, U.S. Army Sgt. E. Claudio led the Pledge of Allegiance, before the chorus, directed by Franklin Peynado and student intern Carl Saville, sang America the Beautiful.
Special guest speaker H.L. Johnson Jr. told attendees about his father, a longtime principal in the school district who noticed that some students had to travel more than 10 miles to attend school.
"His vision was for a school here in Royal Palm Beach," Johnson Jr. said. "Unfortunately, he did not live to see that vision. However, I know how proud he would be if he could be here to see all of you in this beautiful elementary school."
Johnson Jr. recalled being there when there was just a vacant lot where the school now stands.
"Certainly all of my family is very proud of this school, and all of you," he said, introducing his wife, Linda, son Jeffrey, Jeffrey's friend Fidela, daughter-in-law Sunni, granddaughter Morgan and grandson H.L. Johnson III. "Thank you so much for inviting our family and allowing us to be here today and take part in this wonderful 30th anniversary celebration."
In the school's media center, there is a picture of H.L. Johnson, who was a close friend of the school's first principal, Walter Murray.
The school's second principal, Ann Killets, was on hand to speak. "I'm so honored to be here today," she said, explaining that the school had more than 1,700 students when the school moved from portables to the current building.
In the school's early years, it was featured on Good Morning America because it was the largest elementary school in Florida.
As Killets pointed to a picture of the then-students, she said, "I didn't realize it, a lot of you, maybe teachers now, were in this as students!"
H.L. Johnson Elementary School is a special place, she said.
"As time goes on, there's a legacy that was started here, a real connectedness of the heart for a lot of people, who still stay connected after all this time. Whether you're a teacher or whether you're a student or a parent, I only want to just say, keep on keeping on," Killets said. "You make a big difference wherever you go, and that's what I think H.L. Johnson would have wanted, what Walter Murray would have wanted, and what your principal today, Dr. Lucas, wants for you — to make a difference."
Sharon Hench, the immediate past principal at H.L. Johnson, who is now at South Olive Elementary School, was thrilled to learn that Morgan Johnson was an incoming kindergartner her first year at South Olive. At her school, H.L. Johnson Jr. is just known as "grandpa."
"That kind of helped ease that transition, so grandpa, I'm glad you're here with us," Hench said.
Hench said she was proud of her time at H.L. Johnson Elementary.
"We worked hard, we worked strong, we worked smart, to put H.L. Johnson consistently in the top 10 schools in the district," Hench said. "We spent 11 amazing years together."
Hench noted that some of the teachers present were there when she started and some she hired.
"We became a blended family," she said. "It was not about me, you, or us, it was our belief in a unity of purpose that focused on what is best for children. We honored traditions, we made new traditions, and created memories that made each of us feel proud, committed and connected. HLJ will always be in my heart."
Before the chorus sang Tomorrow Needs Us, School Board Member Marcia Andrews came to the podium.
"I want to tell you, at the beginning, all of the teachers and all of the staff wanted to work at H.L. Johnson," Andrews said, reminiscing of her days as a district recruiter. "You're at a super-duper school. Congratulations, and happy birthday!"
Next, one student from each grade was selected with a winning essay about their dreams. Dominic Cattelane was joined by friend Tyler Minitello, representing pre-K. Kaleb Reichling represented kindergarten, while Melonyann Sears represented first grade, Jonathan Jerez represented second grade, Alex Paladino represented third grade, Isabela Fontes-Fernandez represented fourth grade and Katie Riordan represented fifth grade.
All the students then sang Agents of Change, which they have been practicing since August, Lucas said. She praised them, saying, "You are the agents of change, and you are the future. Keep that in mind… Every step of the way, our teachers are here to guide you."
Assistant Principal Cyndie Wolf, who orchestrated the 30th anniversary celebration, presented the closing remarks. She thanked the guests, the Parent Teacher Organization and the students for their hard work.
"It was been such a joy to have Howard Lynn Johnson Jr. here today with his family," Wolf said. "The portrait of your father, and your grandfather and your great-grandfather has hung in our media center for years, and yet we knew very little about him and his vision for us and his vision for building an elementary school here in Royal Palm Beach. Thank you so much for honoring us here today and bringing so many of your family members to share in this special event."
Wolf then introduced Angelina Tharitimanont, who sang Somewhere over the Rainbow.
"Remember, there's no place like home and there's no place like H.L. Johnson Elementary," Lucas said. "May all of your dreams come true today and always."
Lucas brought Wolf back to the stage to thank her for her coordination and execution of the party before the assembly broke out singing and dancing to Pharrell Williams' Happy.