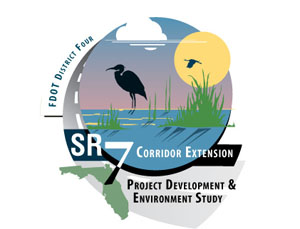 The Western Communities Council heard updates Thursday, March 12 on the successes and challenges still to be faced on the completion of the State Road 7 extension to Northlake Blvd.
Indian Trail Improvement District Supervisor Michelle Damone, current chair of the Western Communities Council, has been the group's point person on the issue.
Damone said that she, Wellington Councilman Matt Willhite, County Commissioner Melissa McKinlay and ITID President Carol Jacobs attended a recent Florida Transportation Commission meeting during Palm Beach County Days.
"We were all very successful," Damone said, explaining that they met the new Secretary of Transportation Jim Boxold, who is a former resident of Royal Palm Beach.
"His parents still reside here, so he is familiar," Damone said. "About three weeks ago, he took a ride out on the reliever road, and he is completely in support of the project."
Damone said that Boxold had met with West Palm Beach Mayor Jeri Muoio, who opposes the project, and was familiar with West Palm Beach's issues.
Damone added that they had met with the local Department of Transportation Commissioner Beth Kigel.
"They approved their budget and projects, which State Road 7 is not on their projects," Damone said. "Their recommendation was to move it to 2020, which every one of us objected to."
Damone said Boxold told her that the Florida Transportation Commission must have projects ready to go, otherwise they are penalized the following year.
"They're anticipating the litigation," Damone said. "Mayor Muoio announced that she was going to write a letter of intent to litigate four days before her election, but [the commission] said if the litigation goes through, they would make funding available for 2017, so there's still hope for that."
She said the key to continued success was for the Palm Beach County Metropolitan Planning Organization to keep SR 7 as its priority.
"We just need to stay on top of it. I actually hope the City of West Palm Beach files litigation ASAP so that we can get this behind us," Damone said. "I have been assured by our lobbyist and others that we have met West Palm Beach's environmental concerns."
Damone said Muoio announced plans to go to Washington, D.C., last week.
"I'm not sure what her goal is there, but I know our lobbyist, as well as the county's legislative affairs, are supposed to keep on top of that," she said.
Damone added that they should get in touch with Congressman Patrick Murphy (D-District 18) because Congresswoman Lois Frankel (D-District 22), the former mayor of West Palm Beach who also opposed the extension, is leading the opposition in D.C. She added that Royal Palm Beach Vice Mayor Dave Swift is planning to meet with Congressman Alcee Hastings (D-District 20).
McKinlay said that she and Palm Beach County Legislative Affairs Director Todd Bonlarron had also met with Congressman Mario Diaz-Balart (R- District 25), who is chairman of the House Subcommittee on Transportation.
"He is on our side on this," she said. "When the mayor made that statement in a press conference that she was going to D.C., I called in our lobby team to make sure our lobbying team is following behind her to kind of minimize any impact."
Damone said that she thought the lobby team of Willhite, Swift and Royal Palm Beach Councilman Jeff Hmara was effective in Tallahassee.
"I got the feeling when we left Tallahassee that we really have state support," she said. "I still had people asking me at my own meeting, 'Are we ever going to get State Road 7 to Northlake?' We are getting State Road 7 to Northlake. All the land is acquired other than the one piece. It's a small piece; it's just a lot. I was reassured by Secretary Boxold that that is not even an issue. We're on the right path to success."
Damone said her work in Tallahassee this year was easier due to help from McKinlay.
"We're not a municipality, we don't have a mayor, so I have to talk louder and pound harder and walk through the door a little stronger," she said. "This year I didn't have to because of Melissa."