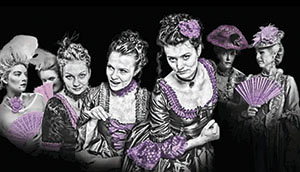 "The Sopranos" are coming to the Wellington High School theater on Saturday, April 18 at 7:30 p.m., and Opera Fusion is putting on a show you can't refuse.
After all, the opera singers are singing for Save a Pet Florida, an animal rescue established in 1975. Save a Pet is a no-kill, not-for-profit volunteer organization designed to save animals and promote awareness and support for the humane treatment of animals.
Opera Fusion Executive Director Birgit Fioravante is excited about the upcoming event in Wellington.
"It's an original show that our artistic director conceived," she said. "We like to call ourselves South Florida's new edgy opera company."
Opera Fusion includes Artistic Director and Metropolitan Opera bass Dean Peterson, as well as Dr. Xavier Garcia, Opera Fusion president and Save a Pet vice president.
The opera group began shortly after a successful benefit for Save a Pet, where the singers were embraced by the community.
"The Sopranos" features four soprano singers — Gerri Kinley, Ravenna Maer, Lara Martinez León and Dora Cardona — supported by three men from Opera Fusion – Lievens Castillo, Garcia and Ardean Landuis, as they perform pieces by Mozart, Verdi, Donizetti, Puccini, Beethoven and more.
"It's like Opera's Top 40 — all the tunes that you know and love. That you've heard, maybe on a commercial," Fioravante said. "That's what we're going to do a whole night of."
They put together some of the best-known and best-loved tunes and put them into a fast-paced program that will last approximately an hour and a half. The singers will be accompanied by pianists Katherine Kozak and Don Cannarozzi.
Because the fundraiser worked so well for Save a Pet last year, the opera company wanted to partner with them again.
Save a Pet President Kathy Wells is thrilled to be working with Opera Fusion. Wells hopes the event will increase name recognition in Wellington, since Save a Pet hasn't had a shelter here since the 1990s.
"There's so many things that we do at Save a Pet, especially rescuing injured animals, and that's where a lot of our money is spent," she said, explaining that they just took in a dog with an injured leg, and that surgery for injuries like that can cost more than $1,000.
Save a Pet brings in animals, sets them up for adoption, sterilization or vaccines, has a foster care program and more.
They hope to raise as much money as possible, Wells explained, because if they put the funds toward their adoption program, they can help dozens of animals.
"That's what is so great about this, is that we really work well together, since our vice president, Dr. Garcia, not only is a veterinarian, he is also an opera singer," Wells said of the connection between Opera Fusion and Save a Pet.
Wells is glad that the core group who performed for Save a Pet last year decided to form their own company, which became Opera Fusion.
"It's just really heartwarming that this was the result of it," Wells said, adding that she is excited to be working with the talented singers again.
Garcia couldn't be more thrilled about the fusion of two of his favorite things.
"For me, it's quite a great thing because I'm able to be part of my two passions, one, of course, is my love for my career, the animals, being a veterinarian, and the love of singing and the art form that I enjoy so much. It's a good joy," he said.
He urged anyone who has never attended an opera to give it a try. "It's about classical singing, it's about classical music, it's a stimulation for the senses," Garcia said.
The arts and culture are important to Garcia, who is impressed with the correlations that exist between the mathematical skills of children and their exposure to classical music.
Opera is for everyone, Garcia said, explaining that exposing opera to the community is part of Opera Fusion's mission. "It's our passion, and we want to share it with everybody as much as we can," he said.
During the show's intermission, there will be a silent auction to benefit Save a Pet Florida. Local salons, spas, restaurants and hotels have donated items, gift certificates, accommodations and more. The audience is invited to remain after the show for a reception with the singers and light refreshments.
To learn more about sponsorship opportunities, or to donate an auction item, call John Mercer at (954) 629-4243.
Tickets are $25 and can be purchased online at www.operafusion.org. Tickets will also be available at the door. Wellington High School is located at 2101 Greenview Shores Blvd.