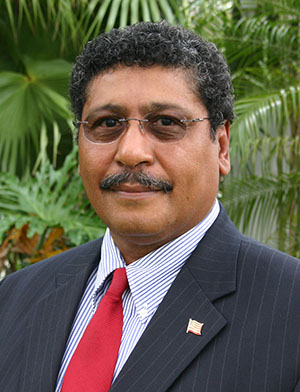 By Paul L. Gaba
The first hat has been thrown into the 2016 Royal Palm Beach mayoral election ring.
Councilman Fred Pinto, who has served for 12 years on the Royal Palm Beach Village Council, announced this week that he will run for the position currently held by Mayor Matty Mattioli, who is expected to retire next year after 22 years in office, including six as mayor.
"My paperwork has been filed, and even though we have a lot of time, I wanted to do this early, due to the election dates being moved," Pinto said. "I've been on the council more than 12 years, and I think I've done a good job and accomplished a lot."
The 2016 village election will be held March 15, on the same ballot with Florida's presidential primary. The formal qualifying period opens Nov. 24 and closes Dec. 8.
"The village is in a good position financially, and we have a stable environment," Pinto said. "Matty told me when he was done, I should step up, and I'm stepping up to continue our solid leadership."
Pinto added that a recent report by the web site NerdWallet placed Royal Palm Beach in the top 10 Florida communities in which to raise a young family.
"That alone speaks volumes on why I decided to continue us on the right path, the path we've been on for a long time," Pinto said.
Pinto, who has 18 months left on his current term, said he has not yet filed his "resign to run" paperwork, but will do so as the filing deadline nears. State law requires that he irrevocably relinquish his current seat once he qualifies for the ballot.
Three of the village's five elected positions — the mayoral post, as well as those of Councilman Jeff Hmara's Seat 1 and Vice Mayor Richard Valuntas' Seat 3 — expire next year. Should he qualify for the ballot, Pinto's seat will either be filled by a council appointment after the election, or be left vacant until March 2017.
Several others are eying a mayoral run, among them Hmara, who told the Town-Crier this week that he has not decided whether to run for re-election to his current seat or to run for mayor.
"I've learned a lot the last three-and-a-half years, and I believe I've made a difference," he said. "I've gained a lot of insight into the ways the different entities work in Royal Palm Beach — the connections, the networking, between people and departments. It takes time to learn all of this."
Like Pinto, his goal, should he run, would be to keep Royal Palm Beach moving in the right direction.
"I need to determine where I can be most effective," Hmara said. "I believe we are doing very well, and we shouldn't change course. We're heading in a good direction."
ABOVE: Councilman Fred Pinto