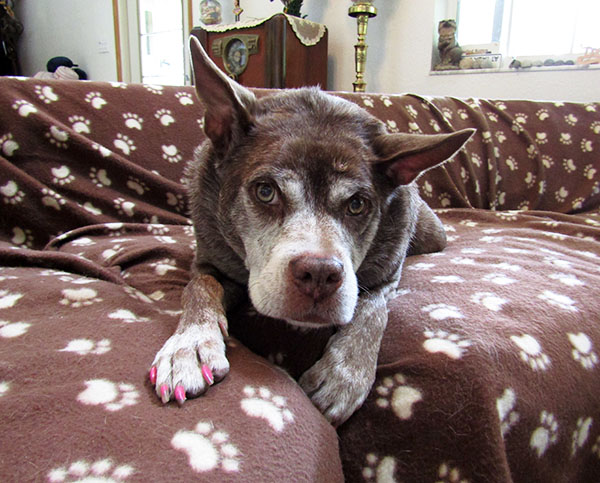 Quasi Modo, a local dog with shortened vertebra, recently won the dubious distinction of World's Ugliest Dog. She returned home to G&M Ranch in Loxahatchee Groves last weekend after flying to California twice in a week and appearing on several national talk shows.
The World's Ugliest Dog contest takes place annually in Petaluma, Calif., as part of the Sonoma-Marin Fair. After finishing as runner-up last year, Quasi took the top spot this year.
In her cross-country jaunts, Quasi got to fly in the planes alongside her people, Mike Carroll and Dr. Virginia Sayre, a veterinarian who rescued and adopted Quasi 10 years ago.
"We ended up doing four trips, San Francisco, then to New York and then back to L.A., and finally back to West Palm Beach," Carroll said. "Those are six-hour trips."
Quasi weathered the flights well despite cramped seating accommodations. "We have a special little blanket that's our secret," he said. "When we throw that blanket down, that's her safety."
They also made use of the blanket during the course of several TV interviews, including one where Quasi received a doggie "makeover" that included pink nail polish.
"She got a little scared there at the end while they were doing that, but she handled the trip very well," Sayre said. "She's been across the country four times in the last week. She travels quite well."
"She stayed right there on that blanket and never moved," Carroll added.
Sayre, who is a shelter veterinarian for Animal Care & Control, does a lot of spays and neuters and sees many animals come and go. However, some are easier to adopt out than others. Animals that are young and healthy go quickly.
Quasi, who has a genetic deformity, did not fit into the easily adoptable category.
"She probably would not have gone out to the general public," Sayre said. "Some rescue groups might have come for her, but she was just so different that I had to have her, so she's had a good life here ever since."
The 10-acre G&M Ranch is also home to several other dogs and horses, although Quasi spends much of her time lately on the living room couch in the air conditioning, out of the heat and humidity.
The trip to San Francisco was actually a first-anniversary celebration of their marriage last year. Sayre and Carroll entered Quasi in the contest the previous year, where she placed second.
"She was the crowd favorite last year, so the crowd really got behind her this year, and I think that's how she won," Sayre said. "The judges sort of feared if they didn't pick her."
Carroll added that one of the judges was Nick Watt, an ABC newscaster who later did a feature story about Quasi, compared her appearance to that of a Tasmanian devil, then said, "She's quite cute, actually."
Other claims to fame for Quasi include playing the part of an alien dog in a low-budget science fiction movie shot at G&M Ranch. She is also popular in visits to retirement homes and was a pet celebrity at a recent Pet Haven fundraiser.
"She's a celebrity everywhere she goes these days," Sayre said, explaining that they were put up at Le Parker Meridien Hotel near Central Park during their stay in New York.
They have been interviewed by numerous national and local television stations, including a Spanish TV station in Miami, and are scheduled to be interviewed by the Sun British tabloid newspaper soon, Carroll said.
But Quasi is mostly happy to be back on the ranch.
"She was very happy to get home," Carroll said.
Carroll also leads Project 425, a group of Vietnam War veterans who travel to different locations with a 1968 Bell UH-1 Iroquois (Huey) helicopter restored by Carroll himself.
ABOVE: Quasi Modo relaxes at home in Loxahatchee Groves.