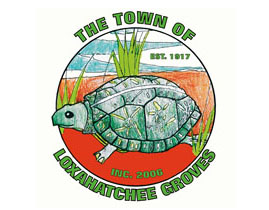 The Loxahatchee Groves Town Council approved a construction schedule for the paving of B Road with open-graded emulsified mix (OGEM) on Tuesday.
Also approved were amendments to the Loxahatchee Commons commercial center, including what could be a 24-hour gas station and convenience store, much to the chagrin of several residents.
Randy Wertepny, with the town's engineering firm Keshavarz & Associates, submitted a schedule for the completion of B Road, and also asked for approval of catch basins at the edge of properties fronting B Road, explaining that drainage would be an issue otherwise.
Wertepny said they are currently in the survey and design phase and had been slowed down by a setback in the survey maps, which took about three months to complete when a month had been anticipated, but were trying to remain on schedule.
"We will do what can to beat the time frame," Wertepny said.
He stressed that drainage is the biggest issue with the road, and asked to send a letter asking residents to dedicate a 10-foot catch basin.
"They would have the ability to pipe into that catch basin," he said. "That method will give water quality treatment and removal requirements."
Wertepny said one property owner had contacted them who would like to extend a pipe underneath the road from the catch basin to the canal.
The schedule calls for the survey and design to be complete by Nov. 4, permitting complete by March 2016, bids awarded by May 2016, council approval in June 2016 and construction completion by December 2016.
Councilman Jim Rockett said he was concerned about the delay in the easement survey maps and its effect on the construction schedule.
"My experience in working with project timelines, is if you miss a timeline, you have to be aggressive to maintain them," Rockett said.
Wertepny said the project had started with a loose time frame, and if they adhered to the schedule, the project would not be delayed.
Councilman Ron Jarriel said he was concerned about starting construction during hurricane season and asked if it could be expedited.
Jarriel also asked whether the Loxahatchee Groves Water Control District is working well with them, and Wertepny said the district is.
Jarriel made a motion to send a letter to property owners asking for a 10-foot easement, which carried 5-0.
Also Tuesday, Joe Lelonek of Atlantic Land Companies, representing Loxahatchee Commons, a 22-acre commercial site at the northwest corner of B Road and Southern Blvd., said the amendment requests address some of the market changes that have taken place since the original approval.
Significant amendments included replacing plans for a bank with a restaurant, and moving a fast-food restaurant from the southeast corner of the lot to the southwest corner, closer to the adjacent 75-acre college campus, which is currently under construction.
Lelonek added that the applicant also would like approval for a planned gas station and convenience store to operate 24 hours a day, although the town currently has an ordinance requiring commercial properties to have lights out by 11 p.m. The request raised objections from several residents.
"We want a friendly environment with nothing that would be a nuisance overnight," Lelonek said. "We are not dealing with this tonight, but it is something we would like to address."
Lelonek said the lights-out ordinance poses a crime problem for commercial areas, and explained that having an attendant there 24 hours a day with lights on all night would help address that. He also pointed out that there is no residential property near that site, which is bounded by the college campus to the west and north, the Solar Sportsystems commercial site to the east and Southern Blvd. to the south.
"The important item is all the changes are consistent with the [Uniform Land Development Code]," Lelonek said, outlining other changes, including LED lighting and additional landscaping for the project.
He explained that the bank site had been eliminated because banks are consolidating and changing their business model to more online operations, which has reduced the demand for on-site banking.
Town planning consultant Jim Fleischmann said the modifications included a right-turn-in-only to the fast-food restaurant from the Southern Blvd. Palm Beach State College campus entrance, and that customers would have to exit farther north or go east to B Road, which will have a signalized intersection at Southern Blvd.
The modified site plan calls for a total of 94,655 square feet, which is unchanged, including a 46,031-square-foot grocery store, 17,550 square feet of in-line retail, a 19,097-square-foot indoor agricultural sales center, a 3,010-square-foot gas station and convenience store, a 4,000-square-foot retail restaurant and a 3,767-square-foot fast-food restaurant.
During public comment, Dr. Bill Louda said the project would call for increased law enforcement.
"With or without lighting, all of this is begging for a full-time deputy," Louda said. "We will need more and more enforcement."
Resident Ken Johnson spoke against the proposed 24-hour operation of the gas station/convenience store.
"I'm bitterly opposed to 24-hour," Johnson said. "They need to adhere to current hours of operation."
Mayor Dave Browning said he wanted to be sure that lighting would be shaded so there is no bleed-over to surrounding properties. Lelonek said the site will have shoebox lighting with LEDs, which would have virtually no bleed-over.
Browning added that he was disappointed that a gas station/convenience store and fast-food restaurants were in the town's code of approved uses in that area.
"It's amazing the garbage they generate," he said. "People toss it out the window because they want to keep their car nice and clean. If there is nothing we can do now, we need to change the code for the future."
Rockett made a motion to approve the amendments, which carried 4-0, with Councilman Tom Goltzené recusing himself.