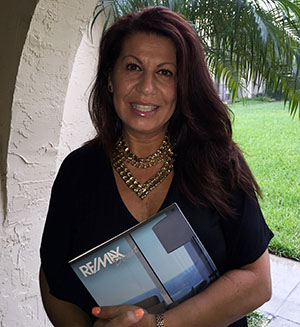 Local Re/Max Direct Realtor Laura Lombardo, also known as Laura Cava, is back in town after working her real estate magic in New York for several years.
The draw to return? Aside from liking South Florida — specifically, Wellington — Lombardo's children are down here, along with her 14-month-old granddaughter, Addison.
"I missed them when I was in New York," she said.
Lombardo took the New York real estate market by storm. In February 2014, she represented both the buyers and the sellers in the most expensive residential sale in Brooklyn that month. The home sold for $3.58 million.
Since she remained active in Florida, after the birth of Addison, Lombardo decided to move back to Florida.
Lombardo's experience in New York and Florida allows her to place clients from New York in just the right place in Florida.
"I have clients in New York who like to transfer to Florida. They need to sell their homes, and they need my assistance," she said. "I have a following of clients looking to relocate in Southeast Florida. They need my expertise. They trust me with my advice, as far as location and where I can place them according to what their criteria are. I have a couple of clients who want to be near the water, and clients who want to be in the equestrian community."
Her time in New York has given Lombardo the ability to know the ins and outs of the real estate market there. "Being raised in New York gives me the upper hand in obtaining people from New York," she said.
Lombardo, fluent in Italian, was born in Italy and raised on a family farm with vineyards. When she was approximately 10 years old, her parents decided to move to New York.
At 17, she participated in a working program at her school, where she would work one week and attend classes the next. "I'm very business-oriented," Lombardo said.
At one point, she ran an import/export company working in the Far East.
Her many experiences are able to enrich her abilities when it comes to helping clients. She was once called the "Aero Club Queen," she said, because she was the agent who sold the most homes in Wellington's Aero Club community.
"I know every street and some of the people who live there currently," she said.
Lombardo is glad to be back and hopes to reconnect with old friends and former clients, getting involved in the community again. She has contributed to the community through the American Cancer Society, the American Heart Association, the American Lung Association, the Susan G. Komen Foundation and the Boys & Girls Club.
"I was very generous with my contributions during the success of my career," she said.
Lombardo returned to Wellington in February and is thrilled to be back and participating in the community.
"Doing business in New York was an experience; it was like a challenge, and I did very well," she said. "I was challenged, and I loved it, but the weather was one of the biggest downfalls. Doing real estate in the snow was not my forte."
Lombardo is happy to be back with Re/Max Direct in Wellington. "I'm very excited. I'm happy that I'm back in town," she said.
To contact Lombardo, call (561) 703-9929 or e-mail lauralombardo1@aol.com.
ABOVE: Laura Lombardo