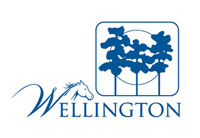 The Wellington Village Council last month refused to pay $55,000 for an outside consultant to evaluate the clearing of canal easements and directed staff to do the evaluation itself.
At the Sept. 24 council meeting, Vice Mayor John Greene asked that the item be pulled from the consent agenda. The item proposed hiring the engineering firm Mock Roos to do the evaluation.
The canal clearing project was put on hold in May after many residents complained that foliage they loved along the canals was being destroyed. That resulted in a public meeting, which led to the council canceling any further cutting until more information was gathered.
Village Manager Paul Schofield said that he has asked Village Engineer Bill Riebe to provide the time and cost to do the evaluation in-house.
"We are taking a look at it," Schofield told the Town-Crier on Tuesday. "What I had Bill do is go through and look at what his staff resources are, because we've got a lot of internal work. We're trying to figure out where it fits in, what the time to do it would be, and the cost. We're trying to allocate resources so that it's done fairly quickly and see if that would cause delays in other projects."
Schofield expects the item to come up again at the council's second meeting in October.
At the Sept. 24 meeting, Director of Operations Jim Barnes said that before moving forward with the project, his staff would provide further evaluation of the extent and limits of the right of way and where the canal actually sits within it, explaining that the canal does not always sit squarely in the center. That changes the way the village can conduct maintenance.
Barnes said that the engineer would also investigate alternative methods to clear-cutting that might not be as invasive or destructive.
"To that end, we have obtained a proposal from Mock Roos, who we currently have under contract, with a sub consultant for survey services," Barnes said. "They have prepared a scope of services that will be evaluating those specific issues."
Greene said that he pulled the item because he believes that the work can be done in-house.
"I know we have used Mock Roos in a number of different areas, and they seem to do very good work in the village, but specific to this item — I'm not an engineer, for the record — it seems that other than the survey work that needs to be done, I think we have the resources internally to do much of this work," he said. "I would support having the survey work done to fill in some of the missing pieces of the canal reclamation project. But beyond that, I don't think it's necessary to award this contract out for consulting services."
Barnes said they pursued a contractor for the project after watching Public Works Director Mitch Fleury and Schofield take heat from the public at the hearing in May.
Barnes explained that the goal was to eliminate any appearances of a conflict of interest and to have as much of an independent evaluation as possible.
"Ultimately, there's still an appearance if it's our in-house engineer," he said. "Absolutely the scope of services, except for the survey work, could be completed by one of our several professional engineers. However, bringing in an outside consultant, third party, although they're still working for us, brings an additional level, almost a third-party [appearance]."
Greene said retaining an outside consultant was just passing the buck.
"We just want somebody else to come back and say that our consultant that we paid $50,000 told us this is what we have to do," Greene said. "I'm willing to sit here and have that debate and answer the tough questions from the public. I think we know pretty well what people want and what side you're on, so I'm not willing to pass the buck."
Greene said that the council can deal with the consequences.
"I think we have qualified professional people who will give us opinions, not based on the public, but what they believe is right from an engineering standpoint," he said. "I'll take the heat for it, but I don't think we need to spend $50,000 to have somebody else be the scapegoat."
Barnes added that Riebe's staff was already busy with capital projects they have been directed to get going. "Design usually takes longer than the studies, and that's the other reason," Barnes said.
Councilwoman Anne Gerwig said that the village needs the study because it does not have a policy on canal clearing.
"That's the weakness that we had," Gerwig said. "We didn't have a policy about this ahead of 30 years of people living there. That's what created this concern. I think it is prudent to get professional opinions outside to make these decisions. I'm willing to make hard choices, and I'm willing to make a stand when I need to, but in this regard, I think it's clear that some trees are a liability and some are not, and that's what I'm expecting the study to tell me."
Councilman Matt Willhite said that more community outreach should be done, showing residents exactly where the canal easements are, where high water and low water lines are, where their property lines are, and find out what growth is in the canal easement.
"When the water rose, it rose on our property, which gave our canals the functionality of holding more capacity in moving it and lowering it and discharging it," Willhite said. "No matter what, the canals did their job."
He said he agreed with Greene that much of the work could be done in-house, and got the impression from the public meetings that the residents want a standard for canal maintenance.
Councilman John McGovern said he was unclear on what the village would be getting for the money
"They want a clear, defined policy so that everybody understands exactly what is going to be done," McGovern said. "I'm not sure after we've spent this $50,000 whether or not we're actually going to have that."
Gerwig pointed out that Mock Roos had done the village's drainage analysis and the scope of study appeared to be pretty specific. "They understand our canals better than anyone to produce this document that we need," she said.
Willhite asked to table the contract and ask staff to provide a clear explanation of what they're looking for. "Give me the big picture about what our plan is," he said.
Schofield said he had a clear understanding of what the council wanted.
"We will bring this back to you with the clear explanation," he said, adding that the goal is to suggest "alternate means and methods of canal maintenance other than the clear-cutting that we've proposed."