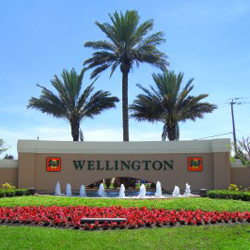 The Wellington Village Council on Tuesday authorized village staff to enter into negotiated consulting contracts with water and wastewater engineering firms.
The contracts are with Arcadis RMA, Carollo Engineers and Kimley-Horn & Associates for water treatment engineering, and with Keshavarz & Associates, Kimley-Horne & Associates, Mock Roos & Associates and the Wantman Group for water distribution, wastewater collection, paving, grading and drainage engineering.
Business Services Director Ed De La Vega said that the three-year contracts, which are at varying hourly rates for each firm, were reached through a request for proposals (RFP) process. "We had the selection committee score them, rank and conduct interviews, per Florida Statutes, and these were the recommendations that were made," De La Vega said.
The council approved entering into negotiations with the engineering firms last October. The selection committee is made up of administrative-level staff.
"We have reviewed the rates, and we feel comfortable with them," he said. "We also compared them to the rates that the county currently has. They recently awarded a contract in 2014, and the rates are right in line with what the county is paying."
The hourly rates vary from firm to firm, ranging from $145 to $215 an hour for a senior project manager to $50 to $80 an hour for an administrative assistant.
Councilwoman Anne Gerwig said that she wanted to be sure that the village was in compliance with Florida's Consultants' Competitive Negotiation Act (CCNA).
"I've had a question every single time this has come up, and some engineers that I've worked with have said that it's a violation of CCNA to throw out rates and to conduct the business the way that we do, and I just want to make sure that we're in compliance with the CCNA," Gerwig said.
Village Attorney Laurie Cohen said that she had not evaluated the contracts for that purpose.
"I certainly can, and we can get you an answer to that," Cohen said. "I would think that we could approve with a condition that it complies."
"I know it's a discussion," Gerwig said, "and it comes to the fact that you don't choose professional services based on price because you want the best talent you can get, and sometimes numbers aren't what control the best products. I am as tight with money, I'm sure, as others in this room, but I want to make sure I'm getting equal quality."
De La Vega said the process used for review did not have pricing involved for the first portion of the selection.
"The selection committee reviewed all of the proposals with no pricing at all; it was a request for qualifications," he said. "Once they made that decision to short list, they brought back the recommended firms that they short-listed, held interviews with those firms, and no pricing was ever discussed during that portion of the process. Once they made a recommendation to negotiate contracts with the highest-ranked firms, that's when we brought back to you authorization to negotiate."
He explained that the pricing was discussed after the council authorized staff to negotiate prices with the short-listed candidates.
"We go back, we get their rates, we negotiate, and we present them to you and award contracts," he said. "The selection was strictly based on qualifications and not price."
Assistant Village Manager Jim Barnes said that Wellington's process is fairly consistent with how most other governmental entities do continuing contracts.
"If we're doing it wrong, everybody's doing it wrong as far as consistency with the CCNA," Barnes said, explaining that the consultants are engaged on a rotating basis, and the final selection is based on a bottom-line price.
Vice Mayor John Greene made a motion to award the negotiated contracts, which carried 4-0 with Councilman Matt Willhite absent.