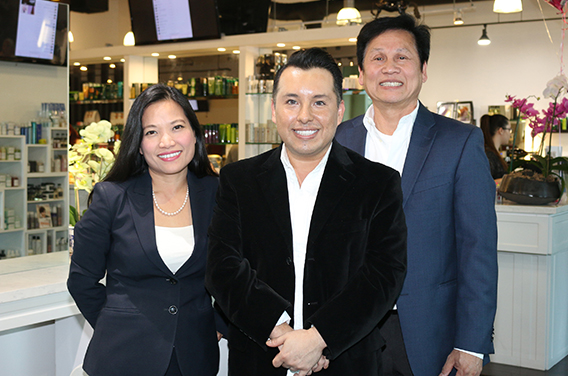 Change is in the air at Tipsy Salonbar in Wellington. Recently, Tipsy Wellington changed hands and is now owned by Dr. Bao T. Doan and her husband, Bac Hai Nguyen.
They want the location to be a gathering place for the community where clients can come in and enjoy themselves while getting pampered. "The whole area is booming, and we're in a great location," Dr. Bao said.
They have added a new med spa part to Tipsy Wellington, which is special to Dr. Bao, a medical doctor who is a specialist in interventional radiology. "I've been practicing for 12 years," she said.
She has a clinic and works in the hospital, in addition to working on varicose veins and other types of cosmetic surgery, including Botox and chemical peels.
They have also added someone else new to the team. Celebrity hairstylist and master hair designer Jorge Antonio Briceno, formerly of Eclipse Salon, has joined Tipsy Wellington.
Being able to add Briceno's innovative techniques and experience to Tipsy Wellington, Dr. Bao said, is an exciting development.
"He's fabulous. He's going to add a lot to our salon," she said, explaining that her specialty is in medicine and his is in hair. "I always believe that to be a good team, everyone has to have their own forte."
Dr. Bao is utilizing her business and medical knowledge to run Tipsy Wellington with her husband, allowing Briceno to work his expertise. "Jorge is very passionate about the hair," she said. "People relate to him. Even having him here, it's great."
The location is perfect for Briceno, who enjoys the layout, design and attitude at Tipsy Wellington, where customers can enjoy a cocktail or drink while having a manicure, get their hair cut and styled, cosmetic procedures, massages and more.
"The energy at the salon is really high," he said. "Dr. Bao and Hai are fantastic to work for."
The ambiance, he said, is unique to the area.
"I see myself growing up in here. I see myself dealing with different products," he said. "They were able to bring Rene Furterer, the line that I work with."
Briceno, Tipsy Wellington's new artistic director, is looking to bring another line to the salon, offering more specialty products to his clientele.
With more than 24 years in the fashion industry — he started at age 17 in Lima, Peru — Briceno has worked on models for fashion designers Louise Goldin, Reem Acra, Zang Toi, David Tlale, Luli Fama, Libby DeSantis of Indah and Band of Outsiders. He has trained with celebrity hairstylists and top designers such as Ted Gibson from What Not To Wear, Jason Backe, Didier Malige, Eiji Yamane, Ronnie Stam and Anthony Turner, and has worked with companies such as Bumble & Bumble, Oribe, Wella, Kerastase and L'Oreal.
In July and September, Briceno will be working at Fashion Week, using his skills to transform models for the runway, the same skills that are now available for Tipsy Wellington clients.
As he gets ready for the beautiful blur of Fashion Week, he is working on his role as artistic director, training new hires and existing hairdressers at the salon.
"It's part of the whole thing, trying to share what I know, and what I learn, with other hairdressers who are new or need some education," Briceno said. "We all need education. In this business, if you think you are already done with it, you're wrong."
Trending styles are always changing. "You really need to educate yourself," he said. "Everything in the industry changes all of the time."
There are new looks, colors and collections every season, he said, which makes learning never-ending.
"I am looking forward to sharing what I know with the hairdressers here and hiring good talent around Wellington to make this place the place to go for hair and everything else," Briceno said. "Dr. Bao is actually a doctor who does fillers, Botox, Juvederm and more. She's fantastic and has a magical touch."
Special features such as Dr. Bao's cosmetic procedures, along with the experience Briceno brings, make Wellington Tipsy a great place to relax, get your hair and nails done, and receive spa services such as massages, facials and more.
Right now is equestrian season, where riders are in town and glamorous balls and galas are taking place weekly. Riders regularly transform from barn attire to black tie.
"We're having fun with them already and looking forward to having a successful season with them," Briceno said. "We have a full set of makeup artists, hair dressers, nail techs — you name it, to make you glam. Just walk in and we'll take care of that."
Some of the many services available include nails, hair, face/skin, massage, waxing, threading/sugaring, eyelash extensions and permanent makeup.
Tipsy Wellington is located at 10120 W. Forest Hill Blvd., Suite 100, in the Pointe at Wellington Green. It is open from 9 a.m. to 8 p.m. Monday through Thursday and 11 a.m. to 5 p.m. on Sundays. For more information, call (561) 791-5603.
ABOVE: Co-owner Dr. Bao T. Doan, artistic director Jorge Antonio Briceno and co-owner Bac Hai Nguyen.