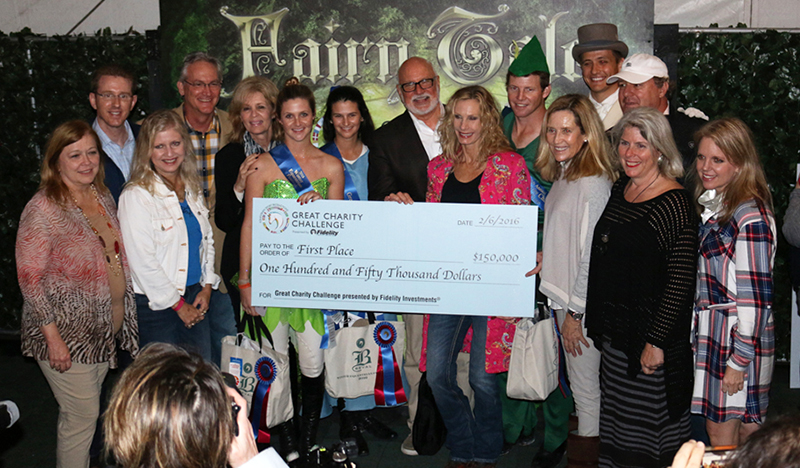 Before the clock struck midnight, the fairytale princes and princesses of the Great Charity Challenge had worked their magic with their flying horses.
As the characters got ready to join their steeds on Saturday, Feb. 6, the Bellissimo family offered words of thanks to the riders, sponsors and charities.
"There are 37 charities represented this year. It's amazing what you do; you are great leaders in this community," said Mark Bellissimo, co-founder of the Great Charity Challenge and CEO of Equestrian Sport Productions. "I know last year the theme was superheroes and you truly are the superheroes in this community doing what you do and the passion you extend to this community. We really thank you for everything that you do. This is our gesture as a community coming together both as the equestrian community and the non-equestrian community to take a moment in time to reflect on how lucky we are."
Bellissimo thanked the sponsors, many of whom who had supported the event for many years.
"Without the help of the equestrian community and the riders here, this would not happen," he said. "To the riders in general, who are dressed up in very silly costumes, I thank you for doing this… You also are using your great horses to compete for money for these great charities."
Despite rainy weather, the seventh annual Great Charity Challenge, presented by Fidelity Investments, returned to the Palm Beach International Equestrian Center to distribute more than $1.6 million, bringing the seven-year total to $9.2 million.
"It's a great testament to all of the energy that is around here. I want to thank everyone for doing what you do, thank you for changing the lives of so many people in this community," Bellissimo said. "I think that we've said on a number of occasions, this isn't about the money raised but the number of lives we've touched."
Tens of thousands of lives have been affected by the Great Charity Challenge, he said, pointing out that he doesn't go anywhere in Palm Beach County without someone coming up to him, thanking him for what the organization does.
Paige Bellissimo, who co-founded the Great Charity Challenge with her father, competed as Princess Elsa from Frozen, right down to a light-up blue gown.
"I just want to say 'thank you' to everyone who dressed up and everyone who is coming out to support," she said. "It means a lot to a lot of people."
Her mother, Katherine Bellissimo, agreed. "It's really one of our favorite nights," she said. "I think back over the years and how many charities that have come up to us at the end of the night and said, 'You don't understand, if I didn't get this, we were shutting our doors.'"
The pro-am show jumping event is organized by Executive Director Anne Caroline Valtin.
"Truly, this wouldn't happen without you," Valtin told the sponsors. "I am very, very lucky to get to work with an amazing group of people from the founders, to the donors that come back every single year… I just can't thank you guys enough. I get to read all of the e-mails of the wonderful work that is being done by these organizations, but without the support of you as sponsors, this would never happen."
With painted horses, glitter, wings, wigs, dresses, gowns, capes and more, riders flew across the ring on their horses, weaving in and out of jumps, proving that their horses really can fly.
Heavy rain slowed the competition, where each charity received a prize ranging from $150,000 to $15,000, but spirits remained high. After all, it was a happy event where dreams really do come true.
The top three winners were the George Snow Scholarship Fund receiving $150,000, Bella's Angels receiving $125,000 and the Kids Cancer Foundation receiving $112,500. Rounding out the top 10, the Friends of Foster Children received $100,000, the Twin Palms Center for the Disabled received $80,000, the Homeless Coalition of Palm Beach County received $75,000, the YWCA of Palm Beach County received $65,000, Student Aces received $60,000, the Urban League of Palm Beach County received $50,000 and the Habilitation Center for the Handicapped received $45,000.
For more information, and a complete list of charities and their winnings, visit www.greatcharitychallenge.com.