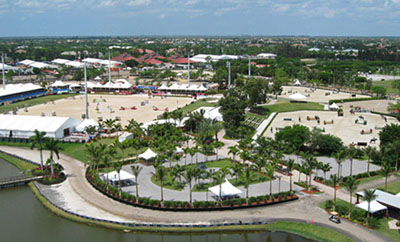 The Wellington Village Council approved two separate resolutions Tuesday to permanently connect three lots in Grand Prix Farms to the Palm Beach International Equestrian Center. The lots are currently in use as stabling for the horse shows.
"What these applications do is provide cross access between lots 8, 9 and 10 of Grand Prix Village to the Palm Beach International Equestrian Center," Village Manager Paul Schofield explained. "Since they both sit in separate [planned unit developments], both PUD master plans must be amended, and under our code, ingress and egress can only be amended by the council."
Planning & Zoning Director Bob Basehart said the application is to make permanent what have been two temporary connections. The connections have been made via temporary approvals for the past several years.
"These connections have been made annually for the last three years and removed at the end of the season, and this request is to make the connections permanent," he said, adding that village staff is recommending approval subject to two conditions.
The Equestrian Preserve Committee and the Planning, Zoning & Adjustment Board also recommended approval.
Councilman Matt Willhite noted that a question that has always come up during discussion of the access was another access from PBIEC to Grand Prix Farms Drive.
"There was always a gate that limited cross access other than emergency vehicles," Willhite said. "Is that still going to be in place here, or does this give them unlimited access?"
Basehart said that one of the conditions of approval was that access to Grand Prix Farms Drive shall be reserved for emergency vehicles only, and owner representatives that maintain the property.
"One of the benefits of making this connection, since all the horses that are stabled on the Grand Prix Village sites are associated with uses at the showgrounds, is by having this connection you eliminate all the traffic that would otherwise have gone up Grand Prix Village Drive, and then onto Pierson Road, and then down onto Gene Mische Way," Basehart said.
Willhite asked about enforcement, and Basehart said it will have closed, locked gates.
"As with pretty much everything else, if the village is informed that there's noncompliance with that restriction, then the applicant can be brought back to the council for consideration of revocation of the interconnection," Basehart said.
Engineer Michael Sexton, representing property owner Mark Bellissimo, offered to answer any questions, and Willhite said that he has always been skeptical of the connection.
"What I did say was go make it right if you're going to do it, so you've done that legwork, you've properly gone through the permitting process, and I appreciate that," Willhite said. "I'm sorry that your client is not here because I wanted him to see that one time that I was supporting you."
Councilwoman Anne Gerwig asked whether the Grand Prix Farms owner is the same owner as the showgrounds, and Sexton said that the principals are both Wellington Equestrian Partners, but under separate LLCs.
"But this is serving the showgrounds, that's why you need the access?" Gerwig asked.
"Yes, it's commercial stabling, primarily, in support of the commercial equestrian arena," Sexton said.
"It's not exactly enhancing the footprint of the property?" Gerwig asked.
"No, it's there to provide the stabling for the FEI, similar to what other properties in Grand Prix Village are doing," Sexton said.
Gerwig asked about vehicular access, and Sexton said the vehicles that would park there are primarily driven by people who have a horse there, as well as the regular stabling area.
"It's going to eliminate a lot of that cross access," he said, adding that it will also provide additional parking that would otherwise be on the showgrounds, as well as a better facility for loading and unloading.
"The driveways are made for the larger trucks to come in, and they can go parallel to Gene Mische Way and unload with lots 8, 9 and 10, and make an exit from the south driveway," he said.
Vice Mayor John Greene thanked Sexton for going through the approval process to get a permanent connection.
"Maybe it has taken us four years to get to the point where when things are done the right way and things are submitted, and we cooperate with staff and all the interested parties, it's amazing what we can accomplish," Greene said. "We want to take some of these projects that have been done on a temporary basis, and we want to make permanent fixes to them. If you guys keep doing things the right way over the next four years, maybe we'll get a lot more done."
"We'll do our best," Sexton said.
Greene made a motion to approve both resolutions, which carried 5-0.
ABOVE: The Palm Beach International Equestrian Center.