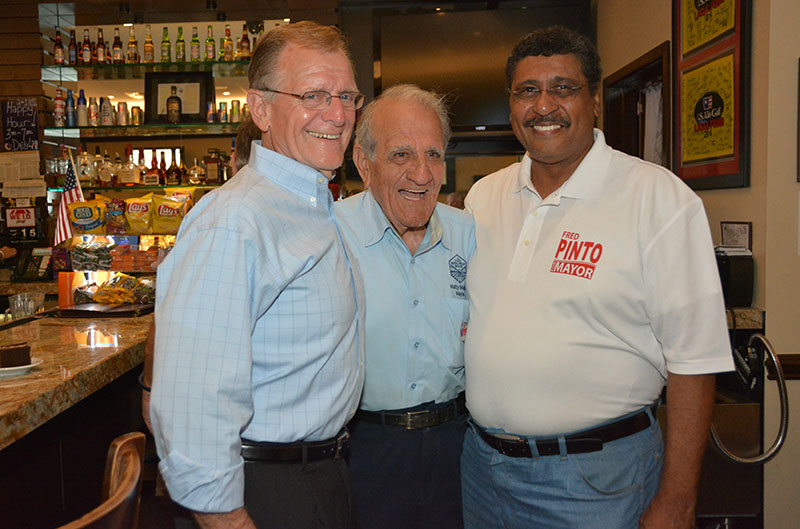 The Royal Palm Beach Village Council will have a new face on the dais following election results Tuesday.
Challenger Selena Smith narrowly defeated incumbent Vice Mayor Richard Valuntas 51.2 percent (3,372 votes) to 48.8 percent (3,215 votes) in the race for Seat 3.
Councilman Fred Pinto will take control of the gavel from retiring Mayor Matty Mattioli. Pinto defeated former Councilwoman Martha Webster in the mayoral race, taking 59.9 percent (4,167 votes) to Webster's 40.1 percent (2,793 votes).
Councilman Jeff Hmara easily retained Seat 1, defeating challenger Lenore White 63.7 percent (4,210 votes) to 36.3 percent (2,394 votes).
Smith, who ran unsuccessfully in 2012 against Hmara, thanked Valuntas for his service on the council and to the village.
"I know I have big shoes to fill," she told the Town-Crier on Wednesday. "I look forward to being a part of the village's future, and I'm excited for the opportunity."
Smith said she wants to continue her past work for local businesses to make sure that they thrive.
"I also want to work with our senior population, as far as their next phase and what we can do to make sure that they remain members of the village," she said, explaining that those are points that she has been working on for the past several years.
Smith also wants to make sure that there is controlled growth in the village.
Pinto said that going forward, he plans to earn the trust placed in him.
"I want to express my gratitude for your support," Pinto told supporters at Madison Green's MarBar Grille after the results came in. "I've never seen so many people coming together in one force with one result. This has been an interesting campaign, to say the least."
Pinto told the Town-Crier that he was happy with the decisive victory.
"Obviously, I'm elated," Pinto said, adding that a clear majority of voters rejected a campaign that he said was based on attacks and distortions.
"I talked to a lot of people, and they know that things have been going in the right direction, and I've been doing a good job for them," he said. "They've substantiated my trust in them. They are intelligent and aware of all these falsehoods that were being perpetrated."
Pinto said he thinks the dynamic on the council will change with the presence of a new member, but that he's glad there will be a female member.
"I'm not happy that Richard Valuntas lost, but it turned out the way it turned out," he said. "We have to keep moving forward and get Selena up to speed. I think it will be a learning experience for her. She's smart, and I think as she grows and learns what our role in government is, and what we're trying to do here in the village, we will move forward with that."
Pinto said he looks forward to continuing the work on ongoing projects, including plans for a senior living facility, explaining that requests for proposals were scheduled for review this week.
"We'll see what we get, and we'll go from there," he said. "We'll see what the proposals look like."
With the village nearing buildout, Pinto said he looks forward to working with developers of the recently annexed former Acme Ranches property south of Southern Blvd.
"They wanted to be part of the village, and they are looking at some projects in developing that area," he said. "I don't know how many years that will take, but one of the things is where the light is at 103rd Street there will be a new, nice bridge built there to give access to that area back there."
As the results came in Tuesday, Hmara thanked everyone for all of their hard work.
"I can't tell you how pleased I am with the cooperation and effort that everybody put in," he said. "I'd like to think we are not done yet with that aspect of it, but I will tell you as a bipartisan, we work together to make something happen. The only way we're going to do it is keep doing what we did in preparation for this election. I'm looking forward to continuing to work with you all."
Hmara said that the future will bring great things to Royal Palm Beach.
"We're headed in a positive direction, and I'm looking forward to more of that collaboration, more of that friendship and getting to know every one of you even better than I did in this campaign," he said.
Valuntas said that the lesson he learned was that it was not to his advantage not having a clear party affiliation in an election held during a presidential primary.
"If you don't have a party, you don't have much of a chance, and I was the only one in the election without a party," he said. "I think that's why I ended up on the short end of the stick."
Valuntas said that he will continue to be active in the community. "I may be done for now, but I'm not done," he said.
Valuntas said that he might consider applying for the council's now-vacant Seat 4, left open by Pinto's promotion to mayor.
Pinto said that he has heard the suggestion of appointing Valuntas to Seat 4, but stressed that the council will follow the procedure that has been set up. Any Royal Palm Beach resident interested in being appointed to the vacant seat must get an application in by Friday, March 25.
Applications can be found at www.royalpalmbeach.com.