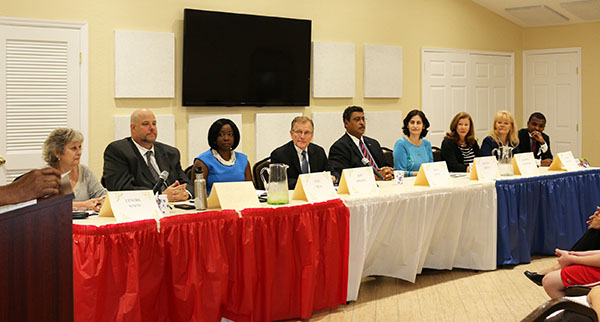 The Strathmore Gate West community in Royal Palm Beach staged a candidates forum Saturday, March 5 moderated by Peter Wein of the WEI Network.
Residents gathered at the Strathmore Gate West clubhouse for the opportunity to meet with the six candidates vying for seats on the Royal Palm Beach Village Council: mayoral candidates Councilman Fred Pinto and former Councilwoman Martha Webster, Seat 1 incumbent Councilman Jeff Hmara and challenger Lenore White, and Seat 3 incumbent Vice Mayor Richard Valuntas and challenger Selena Smith.
Also sitting in on the forum were Florida House of Representatives District 86 candidates Tinu Peña and Laurel Bennett, as well as Bradley Harper, who is running for Palm Beach County Court Judge in Group 15.
The forum began with each candidate providing an introduction.
Hmara, with a background in project management, has been married for 46 years and has lived in Royal Palm Beach for more than 13 years, serving on the council for the past four years. He served 26 years in the U.S. Army, commanding units in Vietnam, Korea and Germany.
"Most of what I have done in my life does, indeed, focus on project management, which I've done for major departments throughout the federal government," Hmara said. "I look forward to being able to serve the community as I have."
Challenging Hmara is White, a Greenway Village resident.
"My main focus is on the residents and how we can work together evaluating growth and still maintaining the great character of Royal Palm Beach," White said. "I see a huge disconnect between the residents and the people who are now managing. It is based on my belief that this mayor and council are not representing the residents fairly. Nor is their process of making decisions benefiting our great village."
Pinto, who has held a council position for 13 years, is seeking a promotion to mayor.
"I have been able to demonstrate leadership on the council. I've been able to apply some of the 20 years of business experience I gained from working on Wall Street," he said. "Any notion that we are not connected with our citizens is just patently false, untrue and mean-spirited to say such a thing. But you know what? We don't have issues in this village because this village has been run so well for so long."
The village, Pinto said, is one of the most financially stable cities in Palm Beach County, and he said that the council has made decisions in the best interest of the residents. "My goal is to continue to do that as mayor, and to continue to drive down your taxes," he said.
Webster has lived in Royal Palm Beach for 20 years, and in Palm Beach County for 50 years. She has served on the Metropolitan Planning Organization as well as the League of Cities.
"I have a leadership background, and that's what I'm trying to bring to you as your mayor. I served five years on the council with one year as your vice mayor. During that time, I was actively involved in representing you," Webster said. "I feel that I have a strong background and will be a great leader for you. I also want you to know why I am running. I stood back up because I believe that I was part of all the good things in this municipality. This is Mayberry, and I want to keep it Mayberry."
Valuntas attended all Florida public schools and is raising his three children, who attend public schools in Royal Palm Beach. "I got a bachelor's and master's degree in criminology from Florida State [University]. In addition to my law degree, I got another master's degree in public administration from [Florida Atlantic University], and I also got a master's in criminal justice from the University of Central Florida. My day job is that I am an assistant attorney general, and I work for the Attorney General Pam Bondi. Basically, I spend my day keeping bad guys in prison."
Smith moved to Royal Palm Beach in 2009 with her family. She holds a degree in marketing from Barry University and a master's degree from the University of Miami.
"I was involved in the community as a member of the Central Palm Beach County Chamber prior to moving out here," she said.
Smith is a founding member of the Western Business Alliance, which helps local businesses within the community, and is a member and past president of the Royal Palm Beach Rotary Club.
Peña is a 16-year resident of Royal Palm Beach with two children and a master's degree in project management and a background in civil engineering. She ran unsuccessfully in 2008 and 2010 for a seat on the council. This time, she hopes to replace State Rep. Mark Pafford, who is leaving the District 86 seat due to term limits.
"What we have in common is our desire to do good work in the community, and that's why we're running," Peña said. "That's why I'm running for this seat."
Bennett, also seeking the District 86 seat, has lived in Royal Palm Beach since 1999 and previously ran for mayor. She has a master's degree in healthcare and taught math and science at H.L. Johnson Elementary School and at the university level. "I am running because I am tired of people like you and I, small businesses as well, not getting the rights that the larger businesses are getting," she said.
Harper said he is running for judge because he cares about the community. "I think that we need people who are compassionate, who are hard workers, and who are qualified to serve as your county court judges," he said. "I am qualified because I am a two-time law firm partner."
There were five candidates in the race, he said, and now it is down to two candidates. "I am the only candidate who has been nominated by our Judicial Nominating Commission to our governor and recommended as a person who is qualified to become a judge," Harper said.
The candidates answered a number of questions, among them one about development in and around the community and its effect on infrastructure development and funding improvements.
Webster expressed concerns about the development of homes on the Crestwood land, as well as the new Acme Ranches development and the planned RaceTrac gas station on Southern Blvd.
"It is going to be a car magnet," she said. "What do you go to RaceTrac for but to put gas in your car?"
Smith expressed concerns for the school capacity and how roads will be addressed to accommodate increases in traffic.
The Capital Improvement Plan, Pinto said, takes care of financing and planning for improvements. He pointed that traffic is something that will always need to be addressed.
"We are at 98 percent build-out in the village," he said. "There's not a lot more that's going to be done here than we already have on the books."
Valuntas said that the RaceTrac project will actually ease traffic at a troubled intersection.
"One of the things that hasn't been brought to light is that the intersection now is a failing intersection. Now the decision on RaceTrac, you know what that does? It makes that go from a failing intersection to a non-failing intersection," Valuntas said, noting that the applicant is paying to make significant improvements to the intersection.
White accused the current council of not planning ahead for the future of the community.
"There should be a consensus about the general direction of the village rather than the stopgap measures of doing things off the cuff without examining the consequences," White said, calling the community poorly planned.
Hmara pointed out that the village has a 15-year strategic plan as well as a village vision statement. "The idea that we're wandering around aimlessly without a clue is completely false," he said.
Candidates were asked about promoting and supporting businesses within the village.
Valuntas pointed out that there are many businesses opening in the village.
Hmara added that the council has worked hard for all businesses by creating a directory listing all of the businesses and their contact information within the community on the village web site.
White asked why stores are empty and what sort of stores residents would want in the community.
Pinto clarified that the role of government is not to regulate business.
"If an entrepreneur wants to open up a business within this community in one of these shops, they make a determination of what products and services that they're selling are needed in this community, and they will sell it at a competitive price and they will be either successful or not successful, but it's not government's job to control and regulate that," Pinto said.
Webster suggested incentivizing revitalization to encourage businesses to come to the village, noting that she is a founding member of the Western Business Alliance.
The council election will take place Tuesday, March 15.
ABOVE: Candidates at the Strathmore Gate West forum.