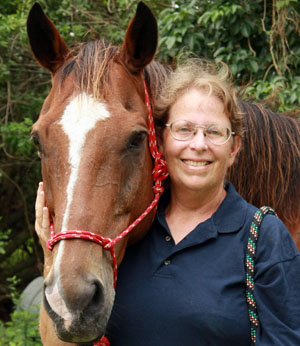 Nothing feels quite as satisfying as accomplishing a long-held goal and celebrating that moment with family and friends. That's the definition of a good day, and Saturday, April 23 was a good day indeed for the extended Vinceremos Therapeutic Riding Center family. The facility's parking lot was full as excited clients, volunteers and donors prepared for the big moment: dedicating the new barn.
"This is a great opportunity for us to open this special place for our equine partners," Vinceremos CEO Bill Carter said. "In comparison with the old barn and the portable stalls we've been using, this is going to be like living at the Ritz. We're very thankful to the donors who helped make this possible, and the volunteers, without whom none of this would be happening. It was a total team effort."
Ruth Menor, founder and executive director of Vinceremos, was thrilled.
"Oh man, I can't even describe my feelings," she said. "I wonder how the horses will feel. I'm sure they'll love it. This will make it so much easier to care for them. Getting this built has been a special dream. We held the groundbreaking last May, and we'll have another grand opening this fall. Today is about thanking the donors who made this possible."
By 1:30 p.m., everyone was almost ready. Clients and volunteers had the horses, still in the old stalls, groomed and dressed in their new leather halters with brass nameplates. The 8,000 square feet of pristine barn waited. The wide concrete aisles had never rung to the sound of horseshoes. No piles of manure had yet fallen in any of the 24 shavings-filled stalls. No horses had chewed on any stall edges; no hooves had kicked any boards. Each door featured not just the horse's name, but a photo and a short bio. New matching red or blue water buckets and mangers hung, ready.
Two wings met at the center aisle, where crossties would hang. Now, tables filled with food platters, tubs of soft drinks and ice buckets filled with bottles of champagne awaited the participants, along with a birthday cake. It also happened to be one rider's birthday. Donors, volunteers and families gathered, awaiting the horses' arrival. Clothing ranged from jeans and paddock boots to cocktail dresses and heels. It didn't matter. Nothing mattered besides being there and celebrating the accomplishment.
Tim Williamson of 5 Star Builders attended. He helped design and build the barn. "I'm ecstatic to be part of such a great organization," he said, adding that he and all of his subcontractors donated their services at cost. "Seeing all the good they do is heartwarming."
Amy Cedarburg, a volunteer who donates time doing craniosacral work on the horses, said she was looking forward to working on them in the stalls rather than in the pastures. Sarah Menor, Ruth's daughter and an instructor, was glad all the horses would be together in one spot. Kim Elie, herd manager and instructor, was looking forward to this summer, when the horses could enjoy their large, well-ventilated stalls.
"It's all exciting and wonderful," said Diane Haumann, who started volunteering three years ago when her son, Tom McConnon, began riding there. "Everyone's happy this is happening today. Out of the old barn, into the new."
"Today is just incredible," Barn Manager Michelle Bohl added. "Can't you just feel the joy and happiness and love and support? My favorite part is having everyone come together like this, beginning a new journey. The horses will be beyond happy."
Finally, the procession began. Riders and volunteers led the horses up the path to the new barn, greeted with cheers and applause. Someone on a microphone named each horse as it entered, giving background about its past and present accomplishments. In contrast to the people's eager excitement, the horses all appeared calm and relaxed, somewhat interested in their new digs, but willing, as ever, to go and do whatever is asked of them. Last in line was birthday boy Jeffrey Perham, leading his favorite horse, Tommy.
After the horses were ensconced in their new stalls, Ruth picked up a basket of tissue-paper-wrapped bunches of carrots and handed them out to sponsors and board members, who then wandered down the aisles to share the tasty bounty.
Gathering back by the food again, people offered toasts: to donors, builders, staff, students, Ruth and her husband Mike ("the unsung hero behind the scenes"), and the horses. Glasses were raised, people nodded, smiled and drank.
Jeffrey, now 44, cut his cake, and everyone had a piece. His mother, Beverly Perham, reminisced about Vinceremos. "We were there at the beginning, in June 1983. I saw an article in the Palm Beach Post. I knew Jeffrey had found a home with Ruth. He was 10 years old. I drove 48 miles each way, but I knew I had to. Jeffrey's first word, when he was 3, was 'horse,'" Beverly said. "Ruth had two students and was working out of a friend's yard with three horses. Two years later, we moved to a field on Lake Worth Road. Someone in Jupiter donated a rickety old seven-stall barn. A bunch of us drove up, dismantled it, brought it back and put it back together. She had a dream of having lots of riders, horses and volunteers striving toward a goal in a big barn. Now, that dream has come to fruition, but it took a lot of hard work. And Jeffrey works here now, a useful entity. I never thought I'd see it. That's my dream come true."
In the background, someone announced, "This barn's open for business." More champagne corks popped. There was much to celebrate.
To find out about the Vinceremos Therapeutic Riding Center, call (561) 792-990, e-mail info@vinceremos.org or visit www.vinceremos.org.