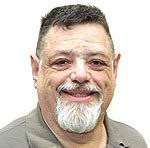 'I' ON CULTURE
I have been waiting for a really fun comedy for a long time. At long last, one has arrived. The Nice Guys is an action movie wrapped around a buddy film that is also one of the funniest movies in years. Shane Black, who has written things like Lethal Weapon and The Monster Squad, and directed Kiss Kiss Bang Bang and Iron Man 3, knows how to blend all of these elements, and he does it really well here. It is a welcome change from the superhero films that dominate this summer's box office. It provides a great action story, but the comic elements run throughout.
The film takes place in 1977 Los Angeles when a completely incompetent, alcoholic private investigator named Holland March (Ryan Gosling) pairs up with hired muscle Jackson Healy (Russell Crowe) to investigate the probable murder of an adult film star and track a missing girl named Amelia (Margaret Qualley). The real problem is that between the two of them, they barely have a functional brain. March is a former cop, now a con man, making promises to clients that he can never keep, and Healy is essentially a thug. What they do have as a brain is March's 13-year-old daughter Holly (Angourie Rice), who is the only real adult in the whole thing.
Young and beautiful Amelia, on the run, hires Healy to stop March, who has been looking for her, by hurting him. He breaks the detective's arm, but soon after is attacked himself by people searching for the girl. The two team up and begin a chase that gets more complicated quickly.
The girl is an environmental activist going after carmakers and air pollution. For some reason, she turns the information she works out into a porn movie, and the automakers go after her. Her mother, a big shot in the Justice Department, wants the boys to find her as well. Somehow, all the disparate elements fit together.
As things start to get complicated, our detective is not capable of figuring things out. The so-called thug is smarter. But daughter Holly is very sharp and keeps pushing into the film, figuring things out while constantly being in danger.
The plot keeps moving along. The situations are not particularly funny, but the dialogue between the leads provides great fun. When Holly finds out that Healy was the man who beat up her father, and he does it for money, she immediately tries to hire him to take care of an annoying girl at school. She is also quite aware that her father is a jerk, but she both understands and loves him despite that.
The two, really three, stars give great performances. Somehow Crowe, despite playing a nasty man who beats people up, is lovable. He gives a great performance in a role that should have made him the villain. He does have a moral code, and working on the case makes him a better person. Gosling is a fabulous physical comedian: his pratfalls, his clumsiness, his almost totally amoral behavior make him adorable. He is a wonderful anti-hero who is forced to be heroic while being fun along the way. He constantly messes things up, yet finds ways to make up for it. Meanwhile, Rice is a real find. She is feisty and able to hold her own with two top stars. Even better, the script lets her be a real kid.
Black knows how to let the dialogue run free. The plot itself is not inherently funny; it is the reaction of the two men working together that somehow makes everything work. They are so different that the pairing should have been a disaster, and instead it was a dream. It is sort of a mirror image of the relationship between the two leads in Lethal Weapon. The two are clowns and idiots but are magic together. They turn the movie into a great buddy film.
I was sorry when the film ended, and I really want a sequel with these two… not to mention more screen time for Angourie Rice. This is a really good film; go see it.