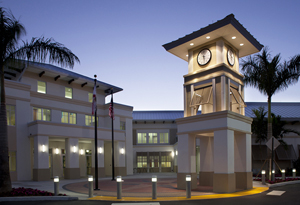 The Wellington Village Council awarded a contract Tuesday to JMW Construction for $84,000 to make initial improvements at Hawthorne Park.
Assistant Village Manager Jim Barnes said that this is the first phase of improvements at the new park, located at the corner of Veronica Court and Hawthorne Place in the southwest quadrant of Wellington Trace and Greenview Shores Blvd.
Current plans call for a half basketball court.
"This is an area for youth and adults to play basketball," Barnes said. "Right now, the only two closest parks that residents would have to go to would be Primrose Park on one side, and the park in Chatsworth Village on the other, across Greenview Shores Blvd."
Future phases will include a playground and a gazebo similar to the improvements at Goldenrod Park.
"That location has the basketball at the rear of the property and a playground and gazebo at the front, and a pathway that encircles the entire playground area," Barnes said.
A walkway at Hawthorne Park will be sited once the playground equipment is in place, he said, explaining that the playground will include a fall area that the pathway must go around.
Mayor Anne Gerwig noted that previous parks did not include pathways.
"It really makes it easier for people in wheelchairs to have access to some of the park," Gerwig said. "I've heard very good responses from the community about that. Even though it was kind of tough because they took out some trees, it makes it so children and parents in wheelchairs can participate in these parks."
Barnes said that the pathways were instituted about 10 years ago when the village started a neighborhood park master plan program.
Vice Mayor John McGovern said that the neighborhood parks offer a significant improvement in the quality of life for residents.
"They give the youth in the neighborhood something to do," McGovern said. "I think that this is going to be well-used, and I can't wait to get the whole thing done here at this park."
Councilman Michael Napoleone agreed.
"I love it that we do these neighborhood parks," Napoleone said. "I think it's a fantastic thing that we offer to the local sub-communities in each section to have a neighborhood park that they can all go to and congregate."
Barnes said that the goal is to have a park within a half-mile of every resident within what he called the "suburbanized area" of the village north of Pierson Road.
"That's something that adds to the ability for all residents to be able to partake in some type of activity at our park facilities, even if you can't get to some of the larger managed parks," he said.
Phase 1 is scheduled to start in a few weeks and be finished in three to four months.
The next phase is to be included in the upcoming Community Development Block Grant funding, and may be in more than one phase depending on the amount of money available. All of the work will be done with CDBG money.
"When we see that allocation for the coming year, we'll get a better estimate from our engineering staff as to what the total cost will be," Barnes said. "If necessary, we would look to Phase 2 and Phase 3, where we will maybe just do the playground first, and save the gazebo for a future phase, depending on the cost of the playground equipment."
Councilwoman Tanya Siskind made a motion to award the contract, which carried 5-0.