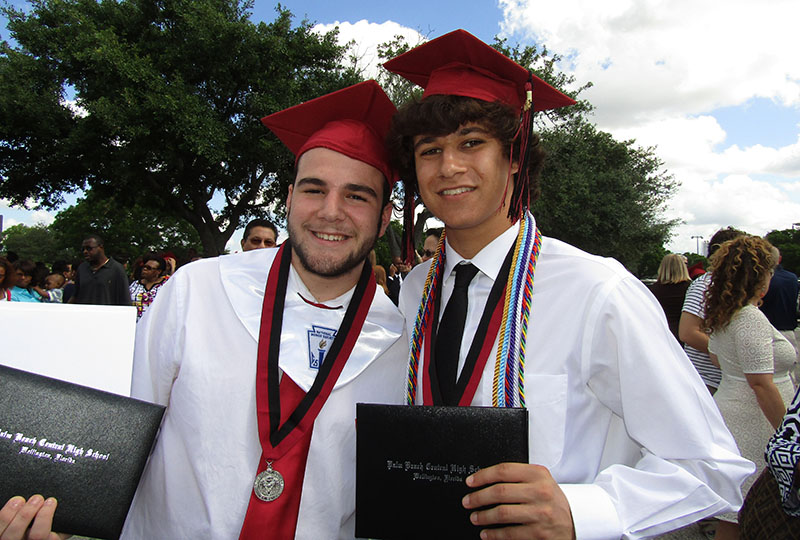 Palm Beach Central High School said farewell to 712 seniors at commencement exercises Thursday, May 26 at the South Florida Fairgrounds Expo Center.
Principal Darren Edgecomb said that he was proud of the Class of 2016.
"You have embraced your senior year and conducted yourselves in such a positive manner," Edgecomb said. "Palm Beach Central High School has provided you with a rigorous educational experience. We have exposed you to AICE, AP, career academy and dual-enrollment courses that will prepare you for the next leg of your journey. Many of you will enter college having already earned college credit, while others will enter fields of employment with industry certification in hand."
Edgecomb noted that the Class of 2016 has driven the school's course offerings because of its members' intelligence and high level of motivation.
"Palm Beach Central has provided you with a collaborative culture of mutual respect," he said. "Our school is a melting pot of diverse cultures and beliefs. However, I can say with complete confidence, that every culture is respected and embraced. I have often said that serving as principal at Palm Beach Central is similar to being mayor of a small city. Our school serves as a model of how the world should function."
Palm Beach Central has encouraged all students to become lifelong leaders in the global society, he said.
"We believe that all students can become successful with the proper support," Edgecomb explained. "I would like to strongly encourage every graduate in the room to wear the cap and gown at least one more time. Each time you suit up, you increase the opportunity to move up."
Edgecomb said the highlight of his professional career has been serving as principal at Palm Beach Central.
"The job is so rewarding because of the 700-plus graduates sitting in the audience," he said. "You have inspired everyone sitting on this stage. We can't wait to hear about your accomplishments moving forward."
Salutatorian Alexander Refowich, who will attend the University of Florida to major in molecular biology, thanked high school staff and the families attending commencement for their support.
"We became not only better students, but better people, ready to address the challenges of a world unseen," Refowich said. "It is often said that the primary focus of high school is to prepare students for their future educational and vocational ambitions by developing a framework upon which more knowledge can be based. However, I do not see high school as a simple bridge from one educational system to the next. Instead, I see it as something more dynamic, like an escalator bringing us to new heights as our view of the world elevates with our own emotional and intellectual development."
He said that high school has presented a number of universal lessons to get students to reach higher levels.
"Because these lessons are so easy to overlook, I wish to briefly refresh a few of them with you," he said.
Lesson one: Celebrate your individuality.
"We all hold perfectly innate and valuable knowledge in our thoughts, emotions, perspectives and experiences," Refowich said. "Our true testament to the power of these abstractions is the existence of our many student-driven organizations on our campus where we can all work toward meaningful goals. Regardless of the path that you take today, I encourage you to take this wealth of information, and even if you feel that you have nothing valuable to contribute, remember that love, personality and friendship can sometimes speak greater volumes."
Lesson number two: Make yourself teachable.
"In the same way that I encourage spreading all that we have to offer, we must be open to ideas and acceptance of everyone," Refowich continued. "Our main societies thrive on the input of all members, so an open-minded and critically thinking individual is the first step toward making these societies greater."
Lesson number three: Never stop learning.
"By widening our perspectives, learning more about the world in which we live, we are elevated even further upward," Refowich said. "But now the time has come for each of us to choose the escalators on which we ascend in order to fulfill our own ambitions."
In conclusion, Refowich challenged them to love themselves and love each other.
"By living these lifelong lessons, you will come to love yourself for the person you have become and for the commitments you have for bettering those around you," he said.
Student Government Association President Samantha Chaves, who will attend Florida State University to major in criminology, said that many members of the graduating class have already become leaders, but for those who are not, it is not unattainable.
"Take the example of Steve Jobs, founder of Apple, who graduated from high school with a 2.6 GPA," Chaves said. "Steve Jobs preferred to do things by himself. He was never interested in team sports or meetings, but he spent a majority of his time working in the garage of a neighbor who worked in electronic manufacturing… Being a leader does not necessarily mean being able to lead someone or a group. It means taking matters into your own hands and having the ability to create and inspire a vision for the future and those around you."
Valedictorian Marie Chantal Lacouture, who will attend the University of Notre Dame to major in finance and history, said each graduating senior has his or her own brilliant work to bring to the world.
"I stand here today because of my answers in the classroom," Lacouture said. "I look across this audience at a sea of talented students deserving to be on this stage for other reasons. Creative artists, talented singers, recruited athletes and expert debaters. I see individuals who have been strong through the loss of loved ones… I am humbled by the sea of burning candles that I see in the Class of 2016."
She thanked faculty, parents and friends, and especially her sisters, who have been there to support her.
"In a school as large as Palm Beach Central, students have less focused attention and more independence, given the chance to pass by unnoticed or to thrive," Lacouture said. "However you lived your life at Palm Beach Central, know that we are just at the beginning of our lives… I urge you all to light a candle, find what you are passionate about, and pursue it."