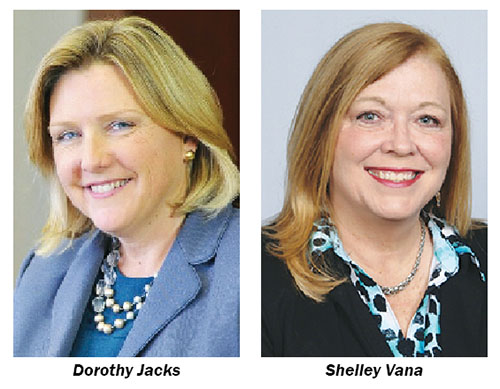 By Ron Bukley and Julie Unger
Chief Deputy Property Appraiser Dorothy Jacks and County Commissioner Shelley Vana face each other in the race for Palm Beach County Property Appraiser in the Tuesday, Aug. 30 primary election.
The winner will replace incumbent Property Appraiser Gary Nikolits, who is retiring after more than 20 years in office. Nikolits has held the post since 1992. He is supporting Jacks for the position. Write-in candidate Charles Stahman has also filed to run.
Dorothy Jacks — Jacks has been with the property appraiser's office since 1988. Her accomplishments include setting up the Property Appraiser Public Access (PAPA) web site.
"I developed the first web site and have been involved with the redesign; four times we have rewritten it," she said. "I've been in leadership roles the last 20 years. I've been division director and assistant director, now chief deputy. I've been involved with many different efforts all the way back. I was involved with the incorporation of Wellington. I've been involved with our effort to streamline homestead applications."
Jacks also worked on the system that enabled online tangible personal property tax filings. She has also been involved with the production of proposed tax notices. "I don't do that anymore; I just oversee it now," she said. "I've progressively had more management and administration over the office."
Jacks feels that she is the most qualified person in the race for the job.
"My opponent is obviously a politician," Jacks said. "She has been elected before. She's a term-limited county commissioner who is looking for a place to land, and I think this race has become one of a professional versus a politician."
Jacks added that she thinks voters are much more educated about the candidates.
"My impression is that the voters understand that this office is a professional office that requires a skill level and expertise to really be able to be an effective leader, and I'm that person," she said.
Besides backing from Nikolits, her endorsements include county commissioners Paulette Burdick and Priscilla Taylor, Tax Collector Anne Gannon, Clerk & Comptroller Sharon Bock, 14 other property appraisers in Florida who know her from the state association, State Rep. Mark Pafford and the mayors of 10 area cities.
"I have a lot of elected mayors and council people," Jacks said. "They understand that I am qualified to do this job. For them, it's critical that the office remains smoothly operating so that their process for tax collection is smooth. If you ask Tax Collector Anne Gannon, I think that's why she's endorsing me, because she understands that if something went wrong with the property tax system, the whole tax process would go off the rails."
Jacks went to Palm Beach Gardens High School. She attended the University of Florida, where she majored in political science, and then went to work in the tax collector's office. She is married and lives in West Palm Beach.
She has served as president of the Executive Women of the Palm Beaches and served many years with the Mandel Public Library in West Palm Beach, where she was president of the Friends of the Library. She is currently on the board of the Women's Foundation of Palm Beach County and has served with several other organizations.
"I have also been very active in our assessors' association. I served as president of the Florida chapter, and most recently I was elected vice president of the International Association of Assessing Officers," Jacks said.
Jacks is proud of what the office has achieved and plans to continue improving it.
"I want to invest more in technology; that's really where my passion lies," she said. "We will be working with improving PAPA even more, adding more features to it, adding more options for people to online file, get things to be done quicker so that the wheels of government move a little bit quicker."
For more information, visit www.dorothyjacks.com.
Shelley Vana — Vana is a longtime fixture in Palm Beach County politics. After teaching in local schools for 20 years, she became president and CEO of the Palm Beach County Classroom Teachers Association. From there, Vana was elected to a seat in the Florida House of Representatives in 2002, serving in that role until 2008.
In 2008, Vana was elected to the District 3 seat on the Palm Beach County Commission. She was re-elected in 2012 and is leaving that post this year. Term limits prevented her from seeking re-election.
In the race for property appraiser, Vana said she believes that she is the stronger candidate.
"I have more experience. I have eight years on the county commission, six years in the state house, and I have worked on the policy and budget committee in the state legislature, rewriting the property tax laws," she said.
Vana said she would like to see the inspector general be included as part of the oversight of the property appraiser's office and would like to make sure that the computer protection systems are up to date. She plans to have more outreach to the community so that residents understand what they are entitled to and how the office works.
Vana added that a disaster recovery plan is needed.
"I have leadership, I was the CEO of the teacher's union, I was part of the group that helped to rewrite the property tax laws," she said. "I have much more experience in terms of government leadership than my opponent does, and I think my endorsements show that a wealth of people have faith in what I can do."
Vana's endorsements include the Palm Beach County Police Benevolent Association, the Professional Firefighters/Paramedics of Palm Beach County's Local 2928 (IAFF), former U.S. Rep. Robert Wexler, U.S. Rep. Patrick Murphy, U.S. Rep. Ted Deutch, State Sen. Joseph Abruzzo, Riviera Beach Councilwoman Dawn Pardo, the Palm Beach-Treasure Coast AFL-CIO, State Rep. Dave Kerner, State Attorney Dave Aronberg, County Commissioner Melissa McKinlay, the Palm Beach County Human Rights Council, School Board Member Debra Robinson, Loxahatchee Groves Vice Mayor Ron Jarriel, former Wellington Councilman Matt Willhite, former Wellington Mayor Bob Margolis, Indian Trail Improvement District Supervisor Michelle Damone and others.
Vana also wants to see the property appraiser's office more in touch with Tallahassee and the Palm Beach County Commission. Additionally, she seeks to be more collaborative with other agencies in general.
Vana was born in Rochester, Pa., and is a graduate of Indiana University of Pennsylvania, where she received a bachelor's degree in psychology. She is married with two children and two granddaughters.
Her teaching career in Palm Beach County included stints at the Dreyfoos School of the Arts and Jupiter High School, and she ended up as the districtwide science resource coordinator. During her tenure at the CTA, Vana served six years on the School District Audit Committee.
For more information, visit www.votevana.com.