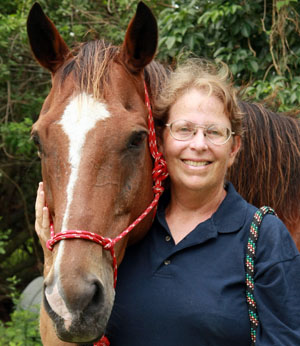 TALES FROM THE TRAILS
Doug Bruce is a well-respected "R"-rated United States Equestrian Federation hunter and equitation judge and has watched many riders in many shows, everything from local schooling shows to big classes at the Winter Equestrian Festival.
He grew up in North Carolina riding anything and everything: hunters, jumpers, western, gymkhana, pole bending, barrel racing and more. He paid for some of his college tuition riding jumpers and working with young horses. In 1989, he moved to Pompano Beach.
Word got around South Florida about Doug's ability to help green or troubled horses. He developed a following and got to know people in the industry and some trainers in the area, starting a business in Parkland.
"I was importing Warmbloods from Europe for clients in the mid-1990s, working for various barns and owners, selling a lot of horses," Doug recalled.
Even though he was buying and selling Warmbloods, Doug has a special place in his heart for Thoroughbreds. "I've ridden them my whole life," he said. "They have great brains and great heart. They're elegant, good movers and sensitive."
Doug recalls one Thoroughbred in particular who was severely abused and labeled a "killer" — Hasty Red, a big 16.3-hand chestnut gelding, who ended up at Pure Thoughts Horse Rescue. That's where Doug started working with him. Now, the horse is used regularly in the Pure Thoughts riding program.
"He'll make a nice show hunter," Doug said. "When I work with riders and horses, my main concern is always the horse. I try to teach people how to get into their horse's mind and understand what makes him tick."
Speaking of hunters brings Doug back to the subject of judging. Unlike jumper classes, where placement is based solely on jumping the cleanest, quickest course, judging hunter classes is subjective, and Doug is glad to share what he's looking for. "The biggest thing for riders to know are the requirements of each division," he explained. "I see this all the time, that a rider will ride a hunter class the exact same way as an equitation class."
But the disciplines are not the same.
"Equitation is all based on the rider's form and how he's functioning," he explained. "The rider must keep a contact and have a feel of the horse's mouth. An ideal equitation rider has soft hands, a good fundamental position, and isn't stiff."
The horse also needs specific qualities.
"A good equitation horse should have a slightly more upward head and neck, a longer back, and have a flatter jump, not going really round or snapping up his knees, but still moving effectively," he said. "Any color, any size, any breed. He should be in good flesh and have a nice coat. His movement should be athletic, elastic and free through the shoulder and back. Ideally, the rider and horse match each other in size and look proportional as a balanced, harmonious picture."
A hunter class has a different focus.
"A hunter class is all about the horse, his manner, style of going and movement," Doug said. "The horse should be relaxed, going on a relatively loose rein, have a pleasant expression with ears forward, and move forward with plenty of step. You'll lose points if the horse has his ears pinned, is wringing his tail, or looks grumpy or tense. I personally like hunters to be a little more athletic, a little rounder over fences. They shouldn't look like surfboards, but have swing in the shoulder and push from the rear end. I like plenty of step, a long neck, and a sweeping, ground-covering canter without a ton of knee action."
Doug has a few pet peeves.
"I hate to see someone with a braided tail and no braided mane, dirty boots or ill-fitting tack. You're at a show. You and your horse should look your best. Put some effort into it," he said. "As for tack and a rider's turnout, I don't care if your bridle cost $30 or $600. It should be appropriate for the class, clean and properly fitted. Also, know what tack is and isn't allowed in each class! When you enter the show ring, you should be an informed, educated rider and know what's expected of you and your horse. This will give you an edge over the other riders."
Doug also teaches, and his lessons are quiet, informative and enjoyable. Each time you finish riding with him, you've learned something new and have something to work on that will improve your horse, whether you plan to show or just want a fun backyard ride.
"I'm very low-key; I don't holler and I'm very honest," he said. "I enjoy teaching and watching horses and riders progress, whatever their goals. I can travel anywhere and will come along to local shows. For me, it's always about making the horses happy."
For more information, contact Doug at (754) 214-8072, or dougbruce4700@yahoo.com.
To read the class requirements for each section, check out the USEF web site at www.usef.org.