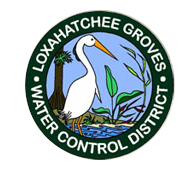 The Loxahatchee Groves Water Control District Board of Supervisors asked its staff on Monday, Oct. 10 to have a complete road work schedule ready by the next board meeting.
The supervisors also tentatively rescheduled a joint meeting with the Loxahatchee Groves Town Council regarding the transfer of district roads to the town for Monday, Nov. 14 at 6:30 p.m. A previously scheduled meeting had been canceled due to Hurricane Matthew.
Supervisor Simon Fernandez asked District Administrator Steve Yohe to finish the road work plan currently in draft form. Fernandez said that he would like a schedule to be posted online so that all residents can see what the road maintenance schedules are.
"I'm trying to get clarity on who's doing what," he said. "I'm looking for organization. I'm looking for streamlining. I'm looking for running it like it should be running, like a business."
Yohe said that a mowing schedule draft has been put in place, but pointed out that it is difficult to have an ironclad schedule due to rain. "There's no way you can tell because of weather patterns when during the week that's going to happen," Yohe said.
He said a schedule will be on the board's next agenda for discussion.
"That's what the citizens want," Fernandez said. "That's what I'm looking for."
Yohe reiterated that the schedule may not meet board approval because it will be general in nature.
The board gave consensus to support Fernandez's request.
Regarding the transfer of LGWCD roads to the town, the district has been in the process of turning roads over to the town for years. The town is working with a private contractor to maintain the roads, which historically have been maintained by district workers.
Supervisor Don Widing said that he was not comfortable with turning over the remaining district roads to the town until there is a complete plan for their maintenance.
"Not to belabor the road issue… but I've been looking for a plan," Widing said. "We're considering relinquishing a vital service to this community that we have provided for a long time."
Widing added that since there is no crisis, he wanted to take as long as necessary to make sure that process is carried out properly.
"I'm probably as much concerned as a resident as I am sitting here as a board member. This is 'Management 101,'" he said. "To take on the additional services, there needs to be a cost analysis done and make sure realistically what can be done."
Widing insisted that using private contractors for road maintenance and other services, as the town does, is a common approach, but ineffective if not planned sufficiently. He wanted a discussion about keeping road maintenance in-house.
"There have been a lot of attempts at privatization and consolidation of services, some good starts and false starts and disasters," he said. "I want to make sure that we're getting the same service that we've been getting."
Wilding said that one of the reasons that government services are done in-house is that government can do it better and cheaper. "If the private sector can do it better and cheaper, fine," he said. "If not, then the town will have to decide if it wants to get into the public works business. Either way, I just want to be convinced that it's done right."
Supervisor Anita Kane wanted to reschedule the planned joint meeting with the town.
"We do need to sit down and talk about all these things, and see what we can do about the situation," Kane said. "I know that a lot of people have issues. There are a lot of factors that bother me beside cost. They have to do with power; there seems to be some element of that in this somehow, and there may be some benefit to one entity holding all the power of the roads."
The town had submitted a suggested agenda for the Oct. 4 meeting that was canceled, including a list of district roads scheduled for transfer, an assessment of their conditions and the estimated cost to improve them.
Yohe wanted more direction for the meeting, but Kane suggested a more open format for the first meeting. The supervisors agreed that several meetings will probably be necessary.
"Can't the instructions just be, let's have a meeting to get the 10 of us in a room to talk about roads and see what pops up?" she asked. "That way, none of us goes in there angry… Let us get angry with each other in the room if that's what we want to do, and say what we need to say to each other in that first hour meeting, and maybe things will become more structured after that."
Supervisor Laura Danowski suggested that the first meeting be at the district office at 6:30 p.m. an hour before the district's next regular meeting on Monday, Nov. 14.
"Whoever can make it, makes it," she said. "It's a start, no agenda, just roads."
In other business, LGWCD attorney Mary Viator informed the board that a recent amendment to the Florida Statutes that took effect Oct. 1 requires the board's complete agenda to be posted on the district web site at least seven days prior to a meeting.
Yohe said that the new statute would change the way that the board's agenda had been prepared for years.
"I had, on occasion, brought things to the meeting that were of significant importance that I didn't realize would become important until closer to the meeting," Yohe said. "Going forward, we are not going to be able to do that."
Viator said that changes to the agenda later than seven days must be for a good cause, such as an emergency, and approved by the presiding officer of the board and given as much notice at possible.
"This is really a statute that has been passed by the legislature," Viator said. "There is not a lot of direction actually in the statute, and we're looking at it and trying to make recommendations to our clients as to the best way to address and comply with it."
Widing thought that the change would be for the better.
"I think this is a good thing," Widing said. "This is going to give us clearly a week to be able to coordinate and communicate, and not put last-minute pressure on staff. I think it is very positive, and certainly promotes transparency in government. It's going to give people more opportunity to get some questions answered in advance of meetings."
Danowski said that she would like to see examples of issues that demonstrate good cause to get on the agenda late. Viator said that she would provide some.
Viator added that producing an effective agenda is sometimes a balance between having it out in a timely fashion and having items on the agenda that are important.
The statute applies only to special districts.