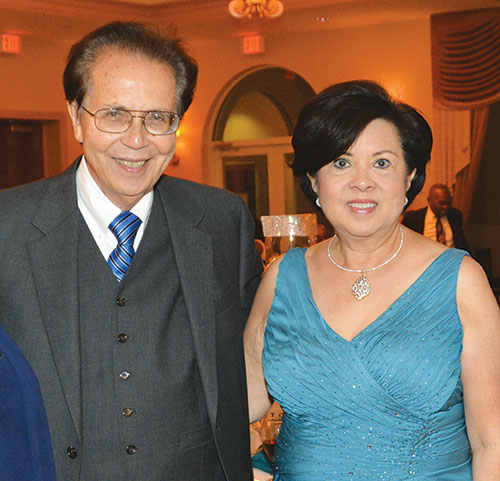 The Rotary Club of Royal Palm Beach will hold its annual citizen of the year tribute on Saturday, March 18 at 6 p.m. at the Royal Palm Beach Cultural Center. According to Steve Logan, president of the club, the husband and wife team of Jess and Victoria Santamaria will be this year's honorees.
In the past, the Royal Palm Beach Rotary has honored one person as its citizen of the year, but this year, in a departure from tradition, the Santamarias are being honored for their many contributions that have benefited the people of Royal Palm Beach and Palm Beach County.
Both natives of the Philippines, the Santamarias moved to Philadelphia, Penn., shortly after marrying. That is where Jess earned his master's degree in business administration from the Wharton School of Business at the University of Pennsylvania. After graduation, he joined the IBM Corporation. While in Pennsylvania, the couple began a family. Their three children were born in Philadelphia before the lure of Florida brought the Santamarias to Royal Palm Beach.
It was here where Jess and Victoria found their life's work as developers and builders in Royal Palm Beach and Wellington. They built more than 3,000 homes in Royal Palm Beach over a 28-year stretch from 1974 through 2002. They also developed and still manage shopping centers, and own and operate the Royal Inn Hotel.
The Santamaria family's business successes pale in comparison to their community, civic and charitable endeavors. They were instrumental in the founding of Palms West Hospital, and Jess served as chairman of the hospital's board of trustees from 1986 through 1992. He now serves as a member of the board of governors of Wellington Regional Medical Center, a post he has held for almost two decades. They have also been involved in dozens of other civic efforts in the western communities over the past 40 years.
As they did business in Palm Beach County, Jess was astonished by the corruption he saw in government. Determined to help solve the problem, he ran for the Palm Beach County Commission and was elected in 2006 and 2010, serving two four-year terms as the commissioner from District 6. During the eight years he served, he was the leading voice for openness and honesty in government.
A capstone of the Santamaria commitment to community is the My Brother's/Sister's Keeper Charitable Trust and My Brother's/Sister's Keeper Scholarship Foundation. Countless students and charitable causes have benefited from the support of these nonprofit organizations.
A prominent group of speakers and local residents will honor of Jess and Victoria at the March 18 dinner. Town-Crier Publisher Barry Manning and Royal Palm Beach Mayor Fred Pinto will salute the Santamarias from the dais. Other speakers will be announced.
Royal Palm Beach Rotary Club charter member Lynn Balch is serving as chairman of the committee arranging the event. He is assisted by Jean Morris, Diane Smith, Keith Hernandez, Charlie Borg, Roland Amateis, Jeff Hmara and Dan Splain. A sellout crowd is expected, and all proceeds will benefit local charities.
There are sponsorship opportunities for the event at multiple levels. Dinner tickets are available at $75 per ticket ($125 per couple) by calling Balch at (561) 601-7297 or Splain at (561) 282-6800.
ABOVE: Jess and Victoria Santamaria.