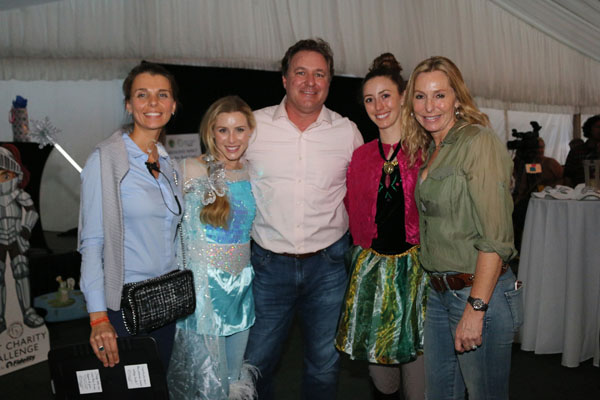 Thirty-four horse and rider combinations, dressed up as animated characters, will take to the arena at the Palm Beach International Equestrian Center for the eighth annual Great Charity Challenge, presented by Fidelity Investments, during the Winter Equestrian Festival's Saturday Night Lights on Saturday, Feb. 4.
The event will mark the grand total being donated to Palm Beach County charities through the Great Charity Challenge surpassing $10 million — $10,734,430.66, to be precise.
"It's an amazing milestone. It's definitely a very special year," Executive Director Ann Caroline Valtin said. "I feel extremely honored to be a part of it. It's very touching to be part of such an initiative, but it's also overwhelmingly amazing to see the level of giving that people have put forward."
The Great Charity Challenge, established in 2010 by Paige Bellissimo and Mark Bellissimo of Equestrian Sport Productions, has touched the lives of thousands in the community during this special event, where teams of two junior/amateur riders and one Olympic or world-class rider compete in a relay-style jumping course. Each charity is paired with a team and guaranteed to walk away with at least a $15,000 grant — the winning charity receives $150,000 — out of the total purse of $1.5 million.
The competitive edge that the athletes have is apparent as they race against the clock on the course to help the charities they're paired with.
"To say that $10 million has gone straight back to work in the community in a way that is empowering these wonderful individuals who run these nonprofits to help others, is an amazing feeling," Valtin said.
Many of the event sponsors have been with the Great Charity Challenge since the beginning, she noted, and because so many sponsors have been interested in participating, the Great Charity Challenge has grown.
"There's such an amazing buzz about the event. People feel so blessed to be able to take part in it, which is quite funny because they're actually the ones doing the giving," she said. "They feel honored. They feel that Wellington has been really good to them, and everyone is really happy to be on board to give back."
The event is a unique opportunity for amateur and junior riders to work with world-class and Olympic riders to help the charities.
"It's very inspiring for the younger generations looking up, too," Valtin said. "Who gets the chance to compete on the same team as an Olympic rider on a regular week? No one. It's a dream come true all at the same time for the juniors and the amateurs. We're extremely lucky to have such a great group of sponsors, owners and riders who are willing to donate their time and their horses to join us and put this on."
Approximately 50 charities benefit in the one evening, be it through the 34 teams or through additional grants and awards.
This year, all 12 Wellington schools will be doing a chalk art festival the night of the Great Charity Challenge, where students will be able to display what they think philanthropy is, in regard to equestrian sports. Their artwork, on portable chalkboards, will be featured in the Wellington Club at the showgrounds. A judging panel will come through, and each school will leave with at least a $1,000 donation. Additional awards will be given as well.
"We're always blown away by the local talent. These students, these teachers — it's an awesome tribute to them," Valtin said.
To date, more than 200 nonprofits have been assisted through the Great Charity Challenge, which is on the advisory board for the Palm Beach Philanthropy Tank and has invited last year's finalists to attend.
"I would just love for people to come out to be inspired to be part of this wonderful community that we live in, and have a chance to get to know some of the wonderful local organizations and the great things that they're doing, and also get a glimpse of equestrian sports in a fun way since all of the riders will be dressed up as animated characters this year," Valtin said.
The Great Charity Challenge provides a unique opportunity for local residents, equestrian and non-equestrian alike, to experience the thrill of competition while getting to know nonprofits that serve the area.
"Everyone is welcome, from kids to seniors. We have so many family-friendly activities going on that night," Valtin said.
The carousel will be on. There will be dining, family activities, a petting zoo and more.
For Valtin, seeing the riders and nonprofits interact, and then working with the nonprofits as they review how they will use their winnings to work for change, are the best parts of the event.
Spectators are also invited to come dressed up as their favorite animated characters. Gates open at 6 p.m., with the first team on the course at 6:30 p.m. The event is free to the public. Parking at the Adequan Global Dressage Festival facility at 13500 South Shore Blvd., with a shuttle to the main showgrounds, is free. On-site parking is $20 per carload, with valet parking available for $30.
For sponsorship information, contact Anne Caroline Valtin at (727) 678-8677 or acv@greatcharitychallenge.com. To learn more about the charities that will benefit, visit www.greatcharitychallenge.com.
ABOVE: Anne Caroline Valtin with Paige, Mark, Nicole and Katherine Bellissimo at last year's Great Charity Challenge.