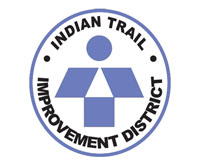 The Indian Trail Improvement District Board of Supervisors heard updated reports last week on the status of 60th Street North and berms that have been placed by the City of West Palm Beach, closing off intersections along the road, especially Mandarin Blvd., which had been used by parents to access schools in the area.
The City of West Palm Beach is planning improvements to the M Canal, which is owned by the city and feeds into its water supply at the Grassy Waters Preserve.
The closures are part of an overall canal improvement project that includes culvert improvements at bridges over the canal, although a crossing of the M Canal at 180th Avenue North, which was requested by residents, has not been included and leads to a backup at Tangerine Blvd. by parents waiting for school pickup and drop-off at Frontier Elementary School and Osceola Creek Middle School.
The closures are part of a settlement reached by property owners in 2007 with the City of West Palm Beach, according to staff reports, but residents along 60th Street North have since complained about the resulting street closures.
At the Jan. 24 meeting, ITID Engineer Jay Foy said that the district's law firm, Caldwell & Pacetti, had provided a detailed report on the settlement's background.
"There is a lot of detail in there, and there was misrepresentation," Foy said. "Essentially, it was settled in 2007, and negotiations that occurred before that were rolled into the settlement, so it makes whatever was said settled. So even if somebody didn't get what they wanted, it was settled."
Foy added that he and his staff had met with Palm Beach County School District representatives about access to the schools on 180th Avenue North.
"They said they have money in their existing budget, not the new half-cent sales tax, that they get to address such issues," he said. "They were going to look at internal circulation issues."
He mentioned the possibility of tying the two loops together, since the adjacent schools convene and let out at different times, which could triple the stacking distance.
"They are going to look at it and get back to us," Foy said. "They might be able to solve the problems internally with zero cost to us, and traffic would not back up on Tangerine."
Supervisor Carol Jacobs said part of the issue is that parents park their cars on Tangerine waiting for their children, which contributes to the congestion there.
"When school is letting out, they take their cars and park their cars right in a row and the police officers do nothing," Jacobs said.
She asked if a grassy strip along Tangerine could be converted into a holding lane so parents don't park on the road. "They should not be allowed to totally shut their car off in the middle of the road," she said.
Jacobs asked staff whether the negotiations with the school district seemed likely to produce results. "I hope you spoke to somebody who can make decisions," she said. "I don't want this to go on for a year."
Jacobs added that she wondered about the billable legal fees that the district incurred during the process of the settlement on 60th Street, which she said is not really resolved.
"There is no solution there, and that is a mess," she said, explaining that many of the residents have created their own makeshift solutions to get in and out of their homes. "You have a bunch of homes that are on dead ends since you closed 60th [Street] going to the north."