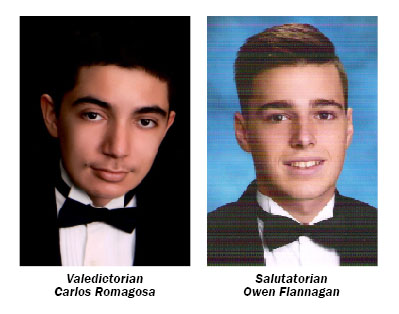 As the sun begins to set at 7:30 p.m. on Monday, May 22, an expected 527 Royal Palm Beach High School seniors will gather at the South Florida Fairgrounds, surrounded by friends, family and teachers, for their graduation.
"This will be our largest graduating class in the last 10 years and has a chance of having the highest graduation rate in the school's history," Principal Jesus Armas said of the Class of 2017.
As the students filter in, neatly walking in rows, clad in their caps and gowns, parents will be snapping away, taking photos to commemorate the occasion.
"The pomp and circumstance is what I most look forward to," Armas said. "The song, the regalia, the procession and the celebration all make for a truly special event."
Valedictorian Carlos Romagosa discovered his class rank officially in December, but had a general idea around his sophomore year.
"I was ecstatic. I was very happy. It was a culmination of all the hard work. It feels very rewarding," he said.
His parents were happy for him, and have been supportive from the start, Romagosa said.
"They were just glad that I was finally getting recognized," Romagosa added.
Securing the top spot in his class was a rewarding accomplishment.
"It's just so much work and so much effort, and to finally see something tangible, something concrete, that you can come out with," he said.
Romagosa will be talking about the hard work and effort during his graduation speech.
His fondest memories from high school, he said, would be the competitive nature of his class members, always pushing each other to do better.
After graduation, Romagosa will be studying biochemistry at Florida International University with the goal of becoming a scientist at a laboratory to do research and testing.
For those aspiring to rank at the top of their class, Romagosa suggests students be themselves and push themselves as hard as they can. "Don't let anyone tell you that you can't do anything. You define your own limits," he said.
Salutatorian Owen Flannagan learned his class rank when he was getting his transcript to send to colleges and for scholarships.
"I was excited. I was up in the top three for the past three years, so I was kind of wondering if I would make it to No. 2," he recalled. "At the same time, it was exciting, but in the whole arch of things, I didn't really have the time to absorb the full capacity of it."
His parents were proud of him and glad he was able to do it and are looking forward to hearing his speech. His sister was also able to finish in the top 10 of her class.
Flannagan's hard work throughout high school paid off in other ways, as well.
"I made a lot of great friends and great connections with teachers. I learned a lot of stuff, especially in computer science, that I'm interested in, and in the whole process," he said. "I feel like I reached everything that I set out to achieve, and a little bit more."
Flannagan is working on his speech and hopes to engage the crowd, bring up memories of the last 13 years of school and reminisce about the past four years.
His fondest high school memory was earning a 5 in AP History.
"That was the hardest class I've ever had in my whole entire life, and that whole year, every single night, I couldn't hang out with friends or anything anymore. I was just doing notes, so when it paid off and I was able to relax again, that felt pretty nice," he said.
Flannagan will be attending the University of Florida, majoring in computer science engineering, with hopes of landing his dream job as an algorithm designer at Google.
For those looking to achieve a high class rank, Flannagan suggests students do their best and try their hardest.
"If you really do everything you can to reach the goals you set for yourself, you will make it up there. A lot of it is self-motivation," he said. "You have to know that you want it more than other people wanting it for you. If you really have one thing that you really want in your life, and you really do try, there's nothing you can't do."
ABOVE: Valedictorian Carlos Romagosa and Salutatorian Owen Flannagan.