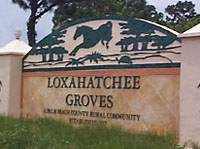 Two new supervisors took seats on the Loxahatchee Groves Water Control District Board of Supervisors after the district's election Monday.
Connie Bell and Karen Piesley both took 2,083 acre-votes to incumbent Frank Schiola's 408 acre-votes — a margin that the winners believe represents a major change in what residents of the district want for themselves and their neighbors.
At a brief meeting after the results were announced, Supervisor Anita Kane, elected to the board last year, was tapped as the new chair of the LGWCD board.
Bell said that as a supervisor, she intends to listen to the residents, rather than follow her own agenda.
"My outlook on it is it's not about what I want. It's about what the people of the Town of Loxahatchee Groves want," she told the Town-Crier on Tuesday. "Obviously, they wanted somebody else in that seat. They gave the proxies for change, and that was to see people from the district work better with the town instead of the name-calling, finger-pointing and not working together."
Bell said she thought it would be better to have people with some experience on both the Loxahatchee Groves Town Council and LGWCD board working together.
"Obviously, it wasn't working that way," she said. "If people are giving you their proxies, you've got to listen to them, and they wanted new people to sit in those seats. So, hopefully, we're going to get some better results."
She found it interesting that some of Schiola's former supporters came to her saying they would support her, but did not show it outwardly.
The election of Bell and Piesley represents a complete turnover of LGWCD board members over three years. Supervisor Laura Danowski, the only board member holding a seat filled by a popular vote election, replaced Robert Snowball two years ago. Kane and Supervisor Simon Fernandez replaced John Ryan and David DeMarois (now a member of the town council) last year, and Bell and Piesley replaced Schiola and Don Widing this year.
Bell, who works for the Village of Royal Palm Beach, said she wants to look closely at the workings of the district.
"I don't like hearsay and I don't like name-calling, and I do not like pointing fingers," she said. "I heard comments about employees, and I don't think that's fair, because employees are only as good as the people who manage them. I believe that's petty. That's not what this is about. They're hired to do a job, and if they're not doing their job, that means management is not doing their job."
Bell said a forensic report of the district's finances that some board members advocated for on the evening of the election would be pointless, but she would like a proper accounting of the finances as she takes her seat on the board.
"I think that they owe that to the public, so I plan on trying to have a sit-down with [LGWCD Administrator Steve] Yohe," she said. "He did shake my hand last night and welcomed me to the board and told me to come see him, and I do plan on making that appointment and asking him, 'Is there anything you feel uncomfortable with here that you need to tell me?' I'm expecting to get some real numbers."
Piesley said she looks forward to addressing issues that have prevailed with the previous board, including patching up conflicts that have hampered its ability to work with the town. She also seeks to address one of her campaign issues, which is the condition of canals.
"I'm looking forward to working very diligently toward a good goal," she told the Town-Crier on Wednesday.
As a nursery owner, Piesley said one of her goals has always been to improve canal maintenance and correct existing problems with the canals and the canal banks, as well as looking into problems with culverts and correcting them in the most inexpensive and common-sense way possible.
"That's what interests me," Piesley said. "I'm all about common sense. The water district is a business, and I would like to see it being run in a more positive manner."
She believes that the district should focus on water control and let the town take over the remaining 10 miles of district roads.
"The water district's first priority should be to the water, and as far as the roads, I feel they should be turned over to the town," she said. "We could focus on what the water district does, and not worry about grading roads."
Piesley acknowledged that the town's road contractor, Bergeron Land Development, is more expensive but thinks Bergeron does better work than the district.
"Bergeron is a professional company, and they do a very professional job, so even though they may cost more per mile, they don't have to go back and address the roads as often as a man just running up and down the road with a grader," she said.
At the brief meeting after election, the new board was installed, tapping Kane as chair, Fernandez as vice chair, Bell as secretary-treasurer and Piesley as deputy secretary-treasurer.