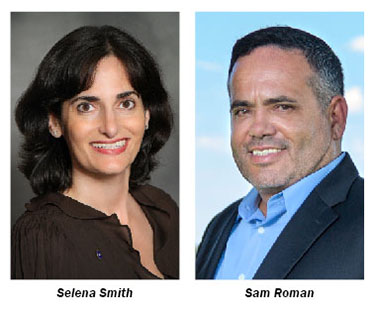 The 2018 election season in the Village of Royal Palm Beach has gotten off to an early start, with three incumbents and one challenger already coming forward to run.
Mayor Fred Pinto and Seat 1 incumbent Councilman Jeff Hmara plan to seek re-election, as does Seat 3 incumbent Councilwoman Selena Smith. Smith has drawn an early challenger in businessman Sam Roman.
Previously, filing for Royal Palm Beach elections did not close until mid-February. However, due to recent changes in state law, the village has moved its filing period to early January. The date of the election has not changed and is scheduled for Tuesday, March 13, 2018.
After winning her seat in 2016, Smith is up for re-election for the first time this coming year.
Smith recounted her previous election and the main topics she focused on for her campaign. They remain relevant to her and to the village, she said.
"When I ran for election, I had three main topics on my platform. One was our seniors to make sure that we are continuing to allow them… the opportunity of remaining in the village," she said. "The other thing was our small businesses, to make sure that they thrive, as well as communication."
Smith served as the council liaison to the Senior Citizen Ad-Hoc Committee, which was created to oversee and review a senior needs study that PMG Associates was contracted to do and complete earlier this year.
"I'm proud and honored to have served on that committee, as well as the results that have come from it, so we do have a guide with a lot of information that our over 55 community can benefit from," Smith said. "We do have a very active senior community that has really put their mark on this, in addition to starting two facilities that are going to be assisted living as well as memory care in the village, which we did not have before."
With the election season on its way, Smith still wants to serve the community of Royal Palm Beach.
"I continue to serve because I love the village, and I feel that I still have quite a bit to contribute," she said. "And as long as I have something to continue to help make the village an amazing place to live, I will serve in the capacity that I'm able to."
Roman has filed to oppose Smith for Seat 3 in the upcoming election. He believes he can fill the role and took issue with some of the responses Smith gave on village concerns this past year.
"The wishes of the community really weren't met," Roman said, explaining that Smith's vote on a traffic-calming initiative for Sandpiper Avenue triggered his decision to run.
"The residents' wishes were to have this initiative in place," he said. "It was a traffic safety issue within the community, and I felt that the community's wishes were not met through the current council person. She did not go toward what the wishes were of the community."
This is Roman's first attempt at elected office in Royal Palm Beach. "I've been a resident of Palm Beach County for over 16 years," he said. "I've been very, very involved in the community through all the years, a lot of community service, so I want to be more involved within the village council, including making sure that the community itself, the residents of the village, have a voice."
Among Roman's community involvement, he is a past president and current chairman of the Puerto Rican/Hispanic Chamber of Commerce of Palm Beach County. He is also a veteran of the U.S. Navy, having served from 1988 to 1991.
"I look forward to being able to serve the community and the residents of Royal Palm Beach, and I look forward to campaigning, getting to know more of the residents and listening to the residents and any concerns that they may have," Roman said. "I really love and enjoy Royal Palm Beach. I think it's the best municipality in Palm Beach County to live in. I raised a family. I love living here, and I want to make sure that the quality of life continues."
Pinto, a longtime councilman who was elected mayor in 2016, is also planning to seek re-election to a second term.
Pinto believes that he and his fellow council members have put their best foot forward regarding the vision they collectively have for the community over the long term.
"As you know, we have projects going on," Pinto said. "We're going to be doing upgrades to Commons Park. We're completely redoing the Cultural Center, and these are things… that we put some priorities around, and actually are moving forward with those. Those are a few things that I'm happy about, and proud that the council worked well together to move forward these initiatives."
Pinto looks forward to the election process.
"None of us are entitled to these roles as elected officials, and we get selected by the people," Pinto said. "The citizens are the ones who determine who's going to represent them."
Pinto is confident in his ability to continue serving the people of Royal Palm Beach.
"I think we all demonstrated that we are here to serve the citizens of this village," Pinto said. "This village is in wonderful shape, and almost two years ago, when I ran initially, I said my goal was to keep us on the right track. We're on the right track, and things are really going well for the village."
Hmara was first elected to the council in 2012. He is seeking re-election to a fourth two-year term in Seat 1. He is confident that the village is on the right track.
"We've got a lot of development going on in the community, and to a large extent, trying to shape that development and respond to requests for variances and things of that nature from developers, that put us in a good position to do the things that we think will fit," Hmara said.
The opportunities and amenities for senior citizens living in the community were big items for the council and village staff this year.
"I think we really believe that assisted-living facilities, especially new facilities in the area of Royal Palm Beach, are really in demand. They're going to become even more important as our population, at least a portion of it, the Baby Boomers, age up," Hmara said. "So, when you get into the details, it takes a while."
Hmara looks forward to other long-term projects that will offer further community development across the board.
"We're also working on the property that is just behind Lowe's, south of Southern Blvd., and that one has, I think, some really innovative, creative, forward-leaning opportunities for the Village of Royal Palm Beach with a downtown area, CityPlace-type entertainment district, combined with modern apartments, condos and townhouses — a walkable community," he said. "It does something really nice with an area that I think was right for reinvention."
Hmara put it simply for his intentions in the upcoming election for Seat 1.
"I'd like to stay on board to finish off the things I've started," he said. "There are a lot more things to be done in the community."
Anyone interested in more information about running for office in Royal Palm Beach should call the village clerk's office at (561) 790-5100.