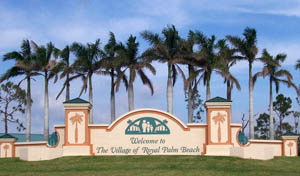 By Paul Gaba
Royal Palm Beach officials will have their first public discussion of the village's proposed budget for fiscal year 2018-19 on Thursday, July 19.
The $44.9 million budget proposal put together by Village Manager Ray Liggins and his staff comes in at approximately $5 million under the current year, with the majority of the difference coming in projected capital improvement costs.
The general fund, which finances day-to-day government, makes up about half of the proposed budget, close to $24.6 million. This is an increase of just over $1 million from 2018.
The largest expenditures come in at $10.4 million (42.4 percent) for personnel services, such as salaries and health insurance for employees, and $9.8 million (40 percent) for contractual services, which includes the village's public safety contract with the Palm Beach County Sheriff's Office.
The largest expense foreseen for 2019 is in capital improvements, where $19.2 million is dedicated to a number of ongoing projects. This is 42.7 percent of the budget.
There are several different capital improvements funds, such as recreational facilities, community beautification, impact fees, sales surtax, general capital improvements, stormwater capital improvements and utilities. All capital fund projects are on five-year budget plans.
"The capital improvements budget covers a five-year span, and many projects span more than one year," Liggins said. "Whatever is started but not finished, carries over, so it's not really accurate to say we're spending less, because it's really capital over a five-year period."
Changes are often made to these projects along the way.
"We shifted our resurfacing expenses to the sales surtax fund, and we had several big projects come off the books this year," Liggins said, noting the $3 million Royal Palm Beach Cultural Center renovation and the Royal Palm Beach Commons Park amphitheater project are no longer reflected in next year's budget. "It really fluctuates from year-to-year, and the capital improvement program is set more to the staff capabilities of properly managing projects."
The sales surtax fund — the village's share of the additional one-cent sales tax approved by voters for county, municipal and school district improvements — will be used for projects that have a minimum five-year life expectancy. Roughly $5.2 million from this fund is budgeted for 2019, with the primary focus being Commons Park access ($1 million), water treatment plant site modifications ($450,000) and road resurfacing ($1.5 million).
The overall expenditure is balanced out by projected revenue, where the village will maintain its current 1.92 mills per $1,000 of taxable property. The county's preliminary taxable value for Royal Palm Beach saw a modest 6.54 percent increase over the past year, to $2.87 billion on property value. As a result, an estimated $592,198 more revenue is anticipated from ad valorem taxes.
"The tax rate will not increase for another year in Royal Palm Beach," Councilman Jeff Hmara said. "That's more than two decades without tax rate increases, and about nine years with a stable rate at 1.92 mills."
Liggins said the village is increasing its personnel in several areas, even with the tax rate remaining unchanged. This includes positions in engineering, planning, recreation, and the renovated Royal Palm Beach Cultural Center.
"Adding personnel to engineering will increase productivity and quality in project management," Liggins said. "The additional planning staff hours will increase customer service times and improve the development review process. The changes in parks, recreation and the cultural center will provide more staff hours for senior programs, allow greater focus on community events and position us to potentially better utilize the renovated cultural, business and convention center."
This will all be achieved without tapping into village reserves, Liggins noted.
Several projects will be completed this year, including Phase I of the RV/Boat Parking project, as well as the cultural center expansion and renovation.
"We expect to complete the cultural center expansion and business center upgrade this year," Hmara said.
Several other village projects, such as the pedestrian and roadway lighting project along Okeechobee Blvd. from State Road 7 to Folsom Road, are expected to be completed during the upcoming fiscal year. However, Hmara noted, the village's five-year Capital Improvement Program contains many out-year projects that require future funding.
As usual, the budget contains emergency contingency funds in case of major weather-related events, such as hurricanes. Hmara noted that after Hurricane Irma swept across the state last September, Royal Palm Beach utilized both those funds and applied for Federal Emergency Management Agency grants to assist with the post-storm cleanup and repairs.
"Hurricanes affect the timing of completing ongoing projects," Liggins said. "With hurricane damage, comes immediate projects that take our focus away from the projects we were working to complete. Provisions are always being made to minimize our impact. For example, having our neighborhoods complete their authorization forms for us to collect storm debris to strengthening our facilities to minimize damage."
While school safety improvements remain a major focus statewide in the wake of the shooting at Parkland's Marjory Stoneman Douglas High School in February, that issue does not impact the village's budget.
"We're glad to see the initiatives being taken at the state and school district levels to safeguard our students and schools," Hmara said. "To the best of my knowledge, there has not been any direct impact on the Royal Palm Beach budget, nor has the village been approached for financial assistance in this area."
Liggins noted that the school district and the PBSO are responsible for those projects.
"Since the school board has its own police force, and the village contracts with the sheriff's office, the state-mandated safety improvements have not affected the village's budget," Liggins said. "I have not had any conversations with the Palm Beach County School District regarding the state-mandated safety improvements."
As a whole, Hmara is pleased with where Royal Palm Beach stands fiscally.
"The village is well-managed, and the results show in our budget, quarterly progress reports, as well as in our recent citizen satisfaction survey," Hmara said. "The budget is a well-balanced mix of investments that will address immediate needs and provide returns that will pay off well into the future. I believe this budget allocates funds to specific actions that will accomplish the long-term and near-term goals identified in our strategic plan."