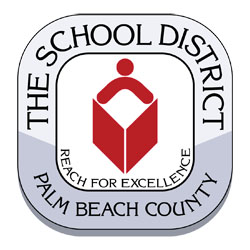 What began as a promising start to the high school football season turned to chaos as shots rang out in the Palm Beach Central High School parking lot at approximately 9 p.m. on Friday, Aug. 17.
Officials are quick to stress that the incident has not been classified as a "school shooting" because the people involved are not connected to Palm Beach Central as either students or staff. Rather, the Palm Beach County Sheriff's Office has called it a "targeted act of violence." Two people were injured in the shooting and are expected to survive.
As classes resumed on Monday, Principal Darren Edgecomb and his staff worked tirelessly to attend to the needs of faculty and students. The Palm Beach County School District brought in outside counselors for students and adults alike. The PBSO and the Florida Highway Patrol provided increased security, and a visible law enforcement presence was at every entrance to the school grounds.
"Everyone is actually doing pretty well," Edgecomb told the Town-Crier on Tuesday. "Attendance was very good on Monday. I did not notice a difference. I met with the football team. I've spoken with students, and I've met with parents. Our focus is getting past the grief."
Edgecomb, who lives in Royal Palm Beach, is in his fifth year as principal of Palm Beach Central. He is a graduate of Glades Central High School in Belle Glade, where he was active in the band. His wife is also a school administrator and his eldest daughter is a teacher, while his younger daughter is currently pursuing a degree to begin a career as a guidance counselor. For the Edgecombs, education has become the family business.
"I'm coping with it," Edgecomb said regarding his own experience regarding the shooting. "I have a very good support system at home. I trust in God and my faith. I'm not hesitant to talk about it with my family."
While Monday was a bit hectic, things were returning to normal by Tuesday. "I'm a former math teacher. I went to a math class and helped students with a problem. It was very helpful," Edgecomb said. "I met with the football team after school on Monday. They have a normal schedule this week, but the game against Atlantic High School in Delray Beach has moved to Saturday at 5 p.m."
As part of new policies to promote safety, the district will begin Friday night football games an hour earlier at 6 p.m. to take advantage of daylight hours. Only clear bags will be permitted, with the exception of diaper bags, and all bags will be subject to search. No entry will be permitted after the half-time kickoff and no re-entry will be allowed. Finally, no loitering will be tolerated outside stadiums.
On the night of Friday, Aug. 17, Palm Beach Central was home to a pre-season game between the Broncos and the visiting Panthers from William T. Dwyer High School in Palm Beach Gardens.
At approximately 9 p.m., shots rang out in the parking lot leaving two men injured. The shooting occurred outside of the stadium near the ticket booth. The resulting chaos led to a stampede out of the stadium that resulted in at least one individual being injured. The PBSO responded swiftly, and both victims were transferred to local hospitals.
According to the PBSO, the victims were both men, ages 39 and 29. Neither was a student at either Palm Beach Central or William T. Dwyer high schools. Both victims were listed as residents of West Palm Beach.
On Saturday, Palm Beach County Sheriff Ric Bradshaw held a press briefing where he said that it was not a random crime and was not connected to either high school participating in the game. Instead, it is the belief of investigators that one or both of the victims was specifically targeted by the shooters. No clear motive exists at this time, and it remains an active investigation.
In a statement issued Saturday morning, the School District of Palm Beach County thanked the PBSO for the agency's quick response.
"Superintendent Dr. Donald Fennoy would like to thank the many law enforcement officers on duty Friday evening, as well as those who responded after the incident to ensure everyone evacuated the campus safely. Their swift action helped to keep students and families safe," the statement read. "Student safety and security is paramount on our campuses. While the investigation into this incident continues, district officials will be working to determine what additional safeguards are needed for Friday night football games."
The school district shut down all activities on Saturday, Aug. 18 and Sunday, Aug. 19. The district also provided counseling services for students and staff at both Palm Beach Central and William T. Dwyer high schools.
The Village of Wellington also responded with a statement on Saturday.
"Wellington is shocked and saddened by last night's shooting at Palm Beach Central High School," the statement read.
The village went on to commend the PBSO and the School District Police Department for getting the situation under control quickly.
"Law enforcement's reaction last night was immediate and substantial," the statement continued. "School district police were on campus and responded rapidly. Assistance was provided by multiple agencies, who secured the school and grounds. After the shots were fired, protecting the people on campus was law enforcement's first priority."
Both suspects remain at large. They were described by the PBSO as African-American males armed with black hand guns. The first subject was described as being in his late teens to early twenties, 6 feet tall and 170 pounds, wearing a baggy white t-shirt. No further description was provided about the second suspect.
Anyone with information is urged to contact Crime Stoppers at (800) 458-TIPS. You can provide anonymous information by downloading the Palm Beach County Sheriff's Office's new app "PBSO" for Apple or Android smart phones and using the "See Something" feature. The app can also be downloaded from www.pbsoapp.com.