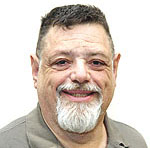 'I' ON CULTURE
There is a great new mystery/comedy out now called Knives Out. It turns the typical Agatha Christie-style whodunit on its ear and keeps you guessing every inch of the way. There are many twists and turns, and writer/director Rian Johnson makes certain that all are enjoyable. The big change is simple: Christie, as in Murder on the Orient Express, has a whole group of upstanding individuals who might have killed a bad guy. Here the victim is a good guy, and the possible killers are all pretty rotten… and related to him.
Harlan Thrombey (Christopher Plummer), a wealthy and successful mystery writer, is found in his office with his throat slit the morning after his 85th birthday party. Was it suicide or murder? A local police detective (Lakeith Stanfield) investigates all the family members present at the time. There is daughter Linda (Jamie Lee Curtis), a very cool businesswoman, and her aging "boy toy" husband Richard (Don Johnson) whose son Ransom (Chris Evans) walked out of the party in anger. Widowed daughter-in-law Joni (Toni Collette) is a strange "influencer" and she has her "woke" and somewhat spoiled daughter Meg (Katherine Langford) also around. Finally, younger son Walter (Michael Shannon) is there with a cypher of a wife (Riki Lindhome) and a proto-fascist teen son (Jaiden Lieberher). We have housekeeper Fran (Edi Patterson) and, lastly, Harlan's caregiver and nurse Marta (Ana de Armas). To add to the fun, a famous gentleman detective Benoit Blanc (Daniel Craig) has been hired.
In flashbacks, we see Harlan creating very good reasons for any of the family members to kill him. And, of course, perhaps he actually did kill himself, although reasons for that are vague. Let it suffice to say that things are seldom as they seem, people are often very different from the usual way they present themselves and that eventually there is sort of an answer. A real part of the fun is watching things go around and around, and each time you think you're getting an answer, it disappears under your feet.
A key element in the fun is that the film is a savage social satire. The family members all feel entitled to the good life and wealth, although most of it stemmed from the wealthy Harlan, and each member thinks they deserve a nice payoff. Watching bumbling lawyer Alan (Frank Oz) dealing with things was a nice bit of fun. And the will reading leads to even more twists.
The cast is incredibly good. Craig, with an almost overwhelming southern accent, is first laid-back and then energetic as the wily detective. He admits to being bewildered almost all the way through. The rest of the cast had a great time chewing up the scenery. Evans got a real chance to switch from his Captain America persona to the spoiled rotten, always in trouble kid. Until, well, he might not be. Shannon was good as the seemingly gentle Walt until, well, things change. Colette stole most of her scenes. No one could be as ditzy as she seemed, but you could see her playing people under all of that. But the film really belongs to de Armas, who played nurse Marta. All of the characters spoke to the police about how they adored her, how she was really part of the family. They all promised to help her once the money from the will came in, but none knew much about her. Marta is the central character, as all the others eventually wind up revolving around her as Blanc drags her everywhere. And as she moves around with shining, innocent eyes, we can contrast the hardworking, nice immigrant with the entitled fools who patronize her.
So, we have many forms of fun with the film. First, we get to watch really good actors getting a chance to play strange, weird characters. Second, we get a fun social satire that does not detract from a story or take it over. And, finally, we get a really tricky mystery, one that director Johnson has no trouble shifting around under us. Some characters seem guilty at first, then others, then things shift again. And it all makes a certain kind of sense.
This is a fun movie kicking off the traditional great movie season between Thanksgiving and Christmas. Go see this one.