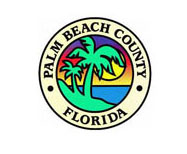 Florida Gov. Ron DeSantis, Director of the Florida Division of Emergency Management Jared Moskowitz and Palm Beach County Mayor Dave Kerner held a press conference on Monday, March 30 at the Palm Beach County COVID-19 Testing Site at the FITTEAM Ballpark of the Palm Beaches. The site is set to open tomorrow morning, Tuesday, March 31 by appointment only.
CLICK HERE FOR A VIDEO HIGHLIGHT OF THE NEWS CONFERENCE
Beginning at 8 a.m. Tuesday, physicians, dentists, nurses and medical support team members with the Health Care District's C.L. Brumback Primary Care Clinics will begin staffing the drive-thru test site in West Palm Beach. The Health Care District is commencing the drive-thru testing with 1,000 test kits and anticipates receiving supplemental kits and PPEs as early as tomorrow.
The Health Care District's COVID-19 Screening Hotline opened Monday, today, at 8 a.m. and received more than 330,000 calls in the first 4 1/2 hours of operation. Appointments are scheduled for Tuesday, Wednesday and Thursday for patients who met the CDC screening criteria for testing. The Health Care District plans to reopen the COVID-19 Screening Hotline tomorrow morning to continue scheduling appointments as more tests become available. The number to call is 561-642-1000.