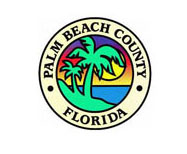 A briefing was held Tuesday, March 31 at 3 p.m. at the FITTEAM Ballpark of the Palm Beaches. Palm Beach County Vice Mayor Robert Weinroth, County Administrator Verdenia Baker, the Florida Department of Health's Dr. Alina Alonso and Health Care District Chief Executive Officer Darcy Davis gave a summary of the first day of testing.
VIDEO: FIRST DAY SUMMARY WITH COUNTY AND HEALTH CARE DISTRICT OFFICIALS AT THE PALM BEACH COUNTY TESTING SITE
The first day of drive-thru testing for COVID-19 in Palm Beach County went smoothly, thanks to the efforts and dedication of a 20-member clinical team with the Health Care District of Palm Beach County's C.L. Brumback Primary Clinics, Health Care District support staff, Palm Beach County's Department of Emergency Management and the Florida National Guard. Of the 281 patients who were scheduled for appointments, 255 were tested. The average age of the patients tested was 52. Six children were tested with the youngest 10 years of age. The results are expected within five to six days. A provider will contact each patient by phone with test results regardless if the result is positive or negative.
The Health Care District's COVID-19 Screening Center received 50,000 calls in the first hour this morning. Callers are being asked to please be patient and expect delays because of the high call volume. Representatives are screening callers for symptoms per CDC criteria. Appointments for testing are scheduled through the end of the week, and the Health Care District is evaluating Saturday operations if more test kits become available.
The Health Care District will continue scheduling appointments as long as there is a need for testing and there are additional test kits and supplies. You must have an appointment to get tested at the facility. The number to call is 561-642-1000.