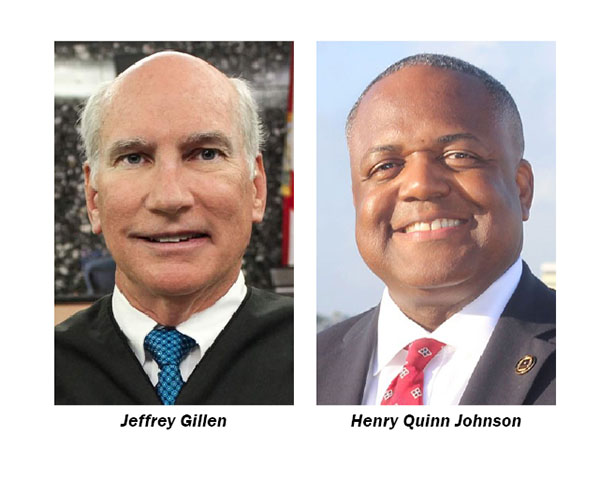 Judge Jeffrey Gillen is being challenged in his re-election bid by attorney Henry Quinn Johnson in the race for the Circuit Court Group 16 seat. The race will be decided during the Tuesday, Aug. 18 primary election, with mail-in voting already underway and early voting starting Monday, Aug. 3.
Gillen believes that he is the most qualified candidate because he has the necessary courtroom experience and knowledge of the law.
"My experience as a judge includes my having presided over four different divisions," he said. "I have presided over two civil divisions, a family, probate, mental health, guardianship, domestic violence division, and for more than a year I have been presiding over a felony criminal division."
On the bench for more than seven years, Gillen said lawyers who have appeared before him have evaluated him very favorably.
"I would like to continue to bring my knowledge, impartiality, fairness and civility to the court every day in my service to the people of Palm Beach County, so that they will continue to know that when they appear before me, they will always have a fair opportunity to be heard by an attentive, courteous judge," he said. "I have always endeavored to be certain that each and every lawyer and litigant who has appeared before me has known that regardless of the outcome, they were treated fairly and with respect."
Gillen said people should also vote for him due to his experience prior to becoming a judge.
"I practiced law all over America, representing a variety of large and small businesses, individuals and other entities," he said. "I practiced in local, state and federal trial and appellate courts. I handled hundreds of appeals in all five of Florida's district courts of appeal, as well as the Florida Supreme Court. However, it is my experience as a judge that makes me the most qualified candidate to serve."
He added that in Palm Beach County Bar Association judicial evaluations conducted while he served as a judge, the vast majority of lawyers who have appeared before him have evaluated him as either excellent or satisfactory.
"Those evaluations prove that I am, and have always been, impartial, fair, well-prepared, knowledgeable, courteous and efficient," Gillen said.
As a member of the faculty of the Florida College of Advanced Judicial Studies, he has taught judges in advanced-level classes.
"With that background, I can say that I enjoy learning, and there is always an opportunity for each of us to learn," Gillen said. "However, serving as a judge is a tough job. It requires the right temperament and patience. I serve the bench with both."
He added that he has public support from nearly 200 former judges, lawyers, elected officials and other local leaders.
"I am honored and proud to have the endorsements of the Statewide Lodge of the Florida Fraternal Order of Police, the AFL-CIO, the Police Benevolent Association, the Palm Beach County Human Rights Council and the Palm Beach County Classroom Teachers Association," he said.
Learn more about Gillen at www.keepjudgegillen.com.
Gillen's opponent Henry Quinn Johnson did not respond to interview requests, but according to his campaign web site, he is a retired lieutenant colonel and judge advocate general with the U.S. Army who has devoted his career to public service.
Johnson recently retired as a U.S. Army Reserve Judge Advocate General's Corps Officer and was awarded the Legion of Merit medal. He served two combat tours of duty, one in Iraq during the 1991 Gulf War and one in Afghanistan in 2008. During the Gulf War, Johnson served with the 101st Airborne Division in an infantry battalion, which spearheaded the initial air assault into Iraq at the start of the ground war where he received his first combat patch.
In Afghanistan, Johnson served during one of the deadliest years for coalition forces, earning his second combat patch. Initially, he served as the Combined Joint Task Force Detention Operations Judge Advocate, where his decisions helped save American lives and advanced the national security interests of the United States. Johnson received an International Committee of the Red Cross (ICRC) medal for his additional duties as a liaison and representative for the U.S. government to the ICRC.
Johnson then served as the chief of military justice for the only court martial convening authority for all U.S. forces in Afghanistan, where he led the administration of all military justice actions and trials in the country. He was responsible for referring the first Military Extraterritorial Jurisdiction Act federal case out of Afghanistan involving a civilian contractor accused of shooting to death a local Afghan national. Quinn was awarded the Bronze Star medal and the Joint Meritorious Unit Award citation for his yearlong combat tour of duty.
As a former state assistant prosecutor, assistant attorney general, assistant state attorney and current trial attorney who has litigated more than 100 jury trials, Johnson said that he has the courtroom experience needed as a circuit court judge. Johnson earned his law degree from the University of Florida, as well as a master's degree in urban planning from Florida State University and a bachelor's degree in chemistry from the University of South Carolina.
Johnson is a member of the Florida Bar Association, the United States District Court Southern District of Florida, the Palm Beach County Bar Association and the F. Malcolm Cunningham Sr. Bar Association. He is a volunteer at Stand Down House for Veterans, a board member of Faith Love Hope Charity and St. John Missionary Baptist Church, as well as a life member of the Veterans of Foreign Wars.
Learn more about Johnson at www.quinnjohnsonforjudge.com.