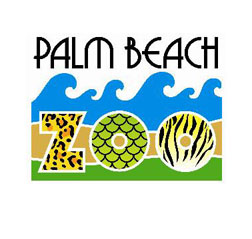 The Palm Beach Zoo is celebrating kids during the month of August. Now through Aug. 31, for each full-price adult admission, two children age 13 and under are free.
"We are so thankful to provide a place where everyone can be out in nature and connect with animals during this time," said Margo McKnight, president and CEO of the Palm Beach Zoo & Conservation Society. "We are making the zoo more accessible to all by offering our annual kids free event in August, prior to the start of the school year."
Palm Beach Zoo's winding shaded pathways and refreshing Fountain Plaza splash pad make it a great place to visit during the long summer days. To the delight of the hundreds of animal residents, visitors have been safely and steadily returning to the zoo.
"The animals missed the guests when we were closed and have enjoyed getting to see them again," Palm Beach Zoo General Curator Mike Terrell said. "It is a livelier place all around with guests visiting. The otters, bears and jaguars all seem to get as much enjoyment out of watching the visitors as guests get watching the animals."
The zoo reopened to the public on June 5, after being closed for 80 days due to COVID-19. During Palm Beach County's Phase 1 re-opening, the zoo is limiting attendance to allow each guest 100 square feet of space to physically distance from other guests. Indoor locations remain closed during this phase and several hand sanitizer stations are available. The zoo has enhanced its daily cleaning protocols for high-touch surfaces and restrooms.
In addition, the Tropics Café launched a mobile ordering platform allowing guests to remotely order food, pay and pick up at a scheduled time at the cafe window. This helps minimize touch points and face-to-face interactions. Tickets to the zoo are available online at www.palmbeachzoo.org/tickets, and advanced purchase is recommended for a touchless entry.