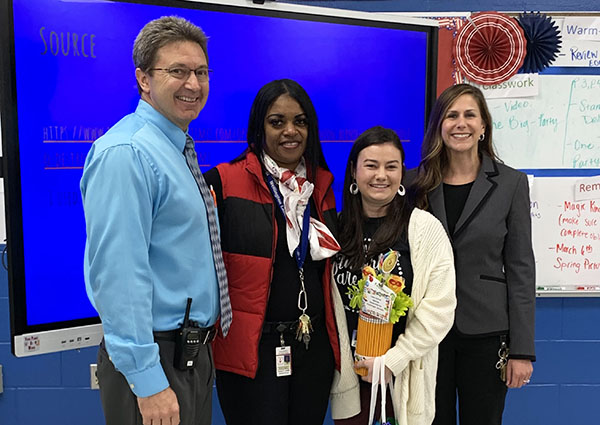 Wellington Landings Middle School teacher Kaitlyn Bolander has received Palm Beach County's Beginning Teacher of the Year Award for her contributions to her classroom and the school. She was nominated for the honor by WLMS Principal Blake Bennett.
Bennett told the Town-Crier that she is very happy that Bolander, who began teaching seventh grade civics at the A-rated school last year and is the student government teacher, earned this year's award. Bolander is an engaging and effective beginning educator who sets high standards for her students and herself, Bennett said.
"She expects a great deal from her students, and she always goes the extra mile to help them succeed. She stands out as a first year teacher, and when you enter her class, you think you are entering a veteran civics teacher's classroom," explained Bennett, who added that the rapport Bolander has built with her students is evident.
"Her students are highly engaged from the minute they walk in the door, and I believe this is attributed to her students' true admiration for their teacher," Bennett said. "She is continually challenging herself in any way it takes to reach students. Her lesson development is outstanding. She develops highly engaging lessons that allow students to master the content to the rigor of the standards."
Bennett also praised Bolander's innovation in the classroom, as well as her ability to develop working relationships with the other staff.
"From the first day on our campus, she has been a valuable asset to her professional learning community," Bennett said.
Bennett added that Bolander is like a sponge, soaking knowledge and techniques from more experienced teachers and sharing the most up-to-date practices that she has learned coming right out of college. "She will frequently come to me with an idea, and I adore her enthusiasm," the principal said.
Bolander took a page from William Golding's "talking conch," with a stuffed teddy bear that students may hold (pre-COVID-19) when the communication is personal statements. She quotes motivational speaker Josh Shipp in her e-mail signature saying, "Every kid is one caring adult away from being a success story."
Bolander was born and raised in the area and graduated from Seminole Ridge High School, interested in becoming a future educator. She attended Florida Gulf Coast University with Palm Beach County scholarships, taking education classes as well as biology classes, which she originally felt might lead to a more lucrative career.
"I gave in to my love for teaching kids," said Bolander, who added that she loves the path she took and loves being a teacher.
The thing Bolander relishes most about her job is, "building relationships with the students and the families," she explained.
She said that in addition to discussing the civics topics, she talks with the students about their free time and what they do, such as drawing or playing video games, and she works hard to really connect with them.
"I am very open with the kids," Bolander said. "I tell them about my life, and we learn together."