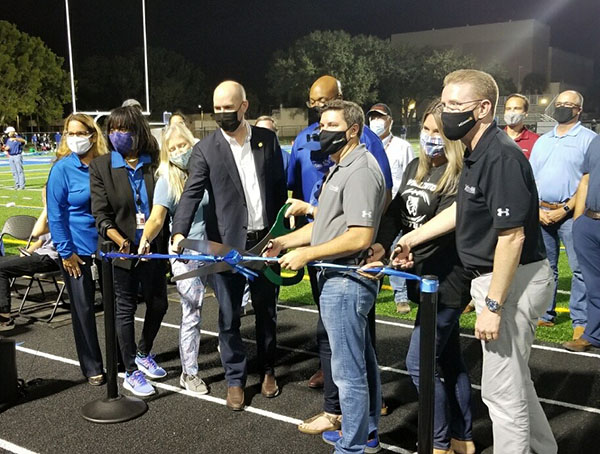 At halftime during the football game between Wellington High School and Royal Palm Beach High School on Friday, Oct. 30, leaders from the Village of Wellington and the Palm Beach County School District gathered to officially open the newly revamped and resurfaced football field at Wellington High School.
The new artificial turf-like field at Wolverine Stadium is part of a large-scale investment in upgrading the athletic facilities on the campus. The project is jointly supported by the Village of Wellington and the Palm Beach County School District.
The football stadium represented completion of the first phase, and in less than a year, the WHS campus will also feature four new artificial turf-like multi-purpose fields, eight tennis courts, three basketball courts, and batting cages for baseball and softball. There will also be a concession stand and bathroom facilities.
To make this happen, the school district provided the land for the recreational upgrades, and the Village of Wellington agreed to pay the construction costs. When school is in session, students at WHS will use the facilities for athletic teams and during physical education classes. Outside of school, at night, on weekends and during school breaks, Wellington recreation programs and the general public will get access to the facilities.
Dignitaries on hand for the grand opening included Palm Beach County School Superintendent Dr. Donald Fennoy, Palm Beach County School Board Member Marcia Andrews, Wellington Mayor Anne Gerwig, Vice Mayor Tanya Siskind, Councilman John McGovern, Councilman Michael Drahos and Councilman Michael Napoleone. Each agreed that this partnership is a win-win for all parties concerned.
Fennoy, himself a Wellington resident, was delighted to see the return of high school football and that games are now being played at first-class facilities such as Wolverine Stadium. Fennoy further emphasized the importance of athletic competition in a student's life, as it's an important part of any student's education.
Andrews had similar words of praise for this infrastructure investment. "This is a beautiful partnership between the Palm Beach County School Board and the Village of Wellington," she said.
Gerwig was also delighted to see life beginning to return to a sense of normal in Wellington. "It's great to see Friday Night Lights football being played again here in Wellington," she said.
McGovern pointed out that the new recreational footprint is a rather significant addition to Wellington's already impressive array of recreational amenities.
"When it's completed, this will be the largest, outdoor, multi-use, contiguous recreational facility in the State of Florida," he said.