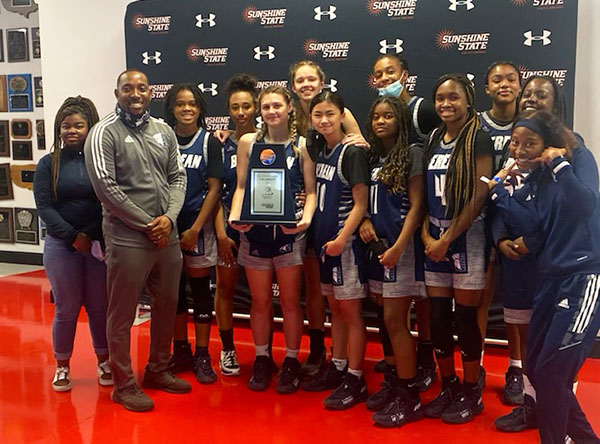 Winning is becoming a habit for the girls varsity basketball team at Berean Christian School. A year ago, the Berean girls advanced as far as the regional semifinals in the Florida High School Athletic Association's Class 2A state tournament. This year's team is focused on going further than last year's squad.
This year's Bulldogs (17-4) remain young and inexperienced, yet they are winning with hustle, teamwork, rebounding and a tenacious defense.
"This team is coming together and has been figuring things out during the season," head coach Kevin Green said.
It also helps to have a set of "twin towers" on the team: 6-foot-1 sophomore Ashley Hendricks and 6-foot-2 freshman Claudya Glemaud. Hendricks, who has been playing on the varsity basketball team at Berean since she was in the seventh grade, is a powerful presence on both ends of the court. She is averaging a double-double: 17.5 points per game and 14.2 rebounds a game. Eight of those rebounds each game are off the offensive glass. Glemaud's biggest contribution is on the defensive side of the court. She is averaging an impressive 3.9 blocks and 5.7 rebounds per game.
Green is delighted with Hendricks' growth, progress and maturity.
"Ashley has been playing great all year," he said. "Her maturity and basketball IQ continue to improve. She's getting better with every game. She's working on her game in the gym before school."
The "floor general" for the Bulldogs is the youngest player on the team and usually the youngest player in every game — 5-foot-7, sixth-grade point guard Aliyah Harris-Green. She is coach Green's daughter.
"Aliyah is having an unbelievable year and continues to make huge strides," Green said. "She is leading the team in assists, is our second leading scorer and is second in steals."
Three other members of the team are making big contributions at certain moments in games that are the difference between winning and losing. Those three players are senior Paige Hazera, senior Samantha Mais, and eighth-grader Dylande "Dee Dee" Innocent.
"Paige is our enforcer," Green said. "She brings toughness and lots of energy to the team. She is averaging nearly six rebounds a game. Samantha is playing nearly 20 minutes each game. She seems to make a big shot or an important pass when we need it the most. Dee Dee is grabbing big rebounds and making more than three steals a game."
Two of the biggest highlights of the season were the back-to-back road wins in the Sunshine State Athletic Conference tournament on Jan. 21-22, which was held in Tavares. On Jan. 21, Berean defeated Lakeside Christian from Clearwater 36-17. On Jan. 22, the Bulldogs held on to defeat St. Augustine's St. Joseph Academy 35-32. In that victory, the Bulldogs sprinted to a 15-9 lead after the first quarter. For the rest of the game, both teams played great defense. St. Joseph had a brief fourth-quarter rally, but Berean outlasted them by three points in the end.
In order for the Berean girls to continue their winning ways for the balance of the regular season and deep into the post season, they will need to rely on their eyes and ears, their minds and their mouths.
"We must continue to stay focused, communicate on defense and listen to one another," Green explained.
If they hustle, exhibit teamwork, rebound and play tenacious defense, that will help, too.