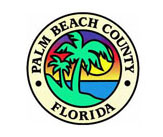 The Royal Palm Beach Village Council received a special presentation from Clinton Forbes, executive director of Palm Tran, on Thursday, Dec. 15. He provided some background on the transportation system, followed by the introduction of an important project that will impact all of Palm Beach County — its bus shelter improvement program.
"Palm Tran has been in this community for 50 years. We provide public transportation services throughout the entire county. We touch every part of this county," Forbes said. "I'm here to ask for your collaboration and cooperation with this project and increase communication. We will be working closely with your village manager."
Currently, Palm Tran offers three ride options: the fixed-route bus system, paratransit for individuals with physical limitations and a micro-transit choice called Mobility on Demand. The latter is a form of ride-share.
"Coming through the pandemic, I'm enormously proud of our industry and the innovation that we've implemented to protect our customers and employees. We recently implemented state-of-the-art air filtration on our buses," Forbes said, explaining that the conversion of humidity to invisible molecular hydrogen peroxide proactively cleans air and surfaces in confined spaces, such as the vehicles used in public transport.
Palm Tran is in the process of upgrading its 40-foot buses to include "infotainment" systems — monitors with public service information, advertising and video monitoring that has already led to a reduction in incidents on buses. The newer models have a more curved design for aesthetics and Q'straint wheelchair securement systems.
To provide better service in the Glades, Palm Tran introduced Mobility on Demand, a shared-ride system that travels between the cities in the Glades for $2 per one-way ride. The larger buses were removed from the area due to difficulty navigating on the roads, and this system has gone from 1,000 boardings when it began to more than 10,000 boardings a month.
"If you are going to use our system, we don't want you to think much about it. Credit card, mobile phone, smart card, cash — you should be able to pay the fare. We have more mobile users than smart card users in our system," said Forbes, as he explained the Paradise Pass fare collection system.
After years of planning, Palm Tran is ready to upgrade its "furniture," too. Currently, there are 72 bus stops, nine shelters, two pole-mounted seats and six shelters in the Royal Palm Beach area. But Route 52, which serves the community, is operating at just under six people riding the system each hour. "Typically, good productivity is 12 to 15 people an hour. Riviera Beach and Royal Palm Beach are our two top candidates for the 5-6-1 Plan," Forbes said.
The plan includes first and last mile service, and even a light rail system running from Royal Palm Beach to downtown West Palm Beach along Okeechobee Blvd.
Improvements to Palm Tran include a goal of zero emissions for 25 percent of the fleet by 2032 through the use of electric vehicles. Bus stops will see upgrades beyond shaded seating ranging from solar lighting and USB charging ports to smart screens with real-time bus information. The timeline presented began with an ADA transition plan phase one this fall, and bus stop engineering and design beginning in spring 2023. The first batch of new bus shelter construction should start in summer 2023.
"The bus shelter issue is important if we are really serious about creating a public transportation environment. That's a big part of it, and people being able to not have to stand out in the sun," Mayor Fred Pinto said. "It's a piece of the puzzle for putting together the vision for where we think public transportation needs to go."
Forbes emphasized working with communities such as Royal Palm Beach to ensure that the new shelters fit aesthetically with what residents want.