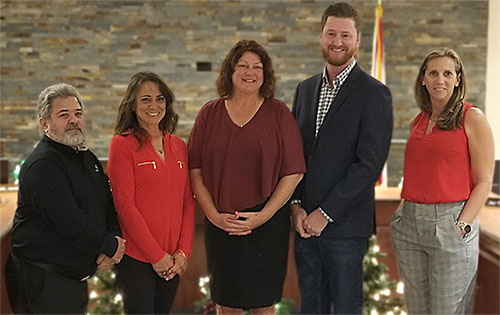 When the Indian Trail Improvement District Board of Supervisors opened their budget hearing Wednesday, May 31, they were considering a staff-proposed $24 million budget for the fiscal year that begins Oct. 1.
The staff-proposed budget is created to "document all the needs of the district," ITID Finance Director Jose Cabrera said. "It's a blueprint… [then] you go along and start making adjustments."
ITID Executive Director Burgess Hanson is "working diligently to reduce the amount of the budget," Cabrera added.
If accepted as proposed at the May 24 workshop, the $24,042,292 budget would mean a $7.9 million increase over the current fiscal year budget and would result in an average $366 per acre increase in assessments for district residents. That means the average resident would be paying $1,153 per acre, or $5,765 per five acres.
Supervisors Elizabeth Accomando and Patricia Farrell attended Wednesday's hearing with ITID Vice President Betty Argue joining online. Only two members of the public were present at the session.
"I'm hoping the staff and board can arrive at something less painful," Argue said.
Accomando said she hopes staff can "arrive at a happy medium that everyone can live with."
A statement released Wednesday night by ITID said that "significant progress" had been made in reducing the proposed budget and that residents can "expect to see at least a 50 percent reduction" in the proposed increase.
The proposed 2022-23 fiscal year budget was $24,296,473, while the actual budget adopted was $16,463,896. The amount trimmed last year — $7.8 million — is approximately the same as the proposed increase in the 2024 budget.
The budget is scheduled to be adopted at the board's Wednesday, June 7 meeting but changes can be made into the summer.
Some $5 million of the proposed $7.9 million increase is to fund the up-front cost of grants that will be lost if they are not acted on in the upcoming fiscal year, Argue said after a May 24 budget workshop at which staff shared the preliminary numbers.
"We'll get back $3.8 million [in grant money]," she said. "So, it's really getting $5 million in projects done for about $2.1 million."
Among the proposed increases are:
$1,415,000 for equipment purchases, including $500,000 for two motor graders and $250,000 to replace a rented L1 Caterpillar loader.
$820,000 for attorneys' fees related mainly to a lawsuit by Minto Communities USA regarding the use of district roads, plus another $500,000 to replenish contingency funds used this year to pay higher-than-expected legal bills for a total of $1,320,000.
$864,000 to cover the increased cost of millings and other road materials due to inflation.
$446,000 for maintenance of canals, including pumps and structures.
$441,000 for Acreage Community Park fields maintenance.
$277,000 increased cost for employee health insurance.
$244,000 for merit salary increases for district employees.
$70,000 to cover increased fuel costs for district vehicles and equipment.
Proposed capital projects not covered by grants include:
$365,000 for improvements at Acreage Community Park.
$250,000 for lights at Citrus Grove Park.
$75,000 for resurfacing tennis and basketball courts at Temple Park.
$158,400 for two miles of sidewalks at locations to be determined.
$520,000 for maintenance and improvements to the M1 Basin.
"There'll be some cuts, of course. But I don't know where they're going to be," Argue said. "The truth is, we're just not funded enough to do what we need to do. That's why we take on a lot of the work in-house. We save up to 75 percent in some cases… but we actually have a smaller staff than we did five years ago. The cost of everything is up. We could stop doing certain things, but then we'd just be kicking the can down the road."
Argue has been a proponent of incorporation, which would allow the municipality to access county, state and federal funds. As is, the improvement district is funded only by per-acre assessments to cover construction and maintenance for roads, drainage and parks. "As a district, we're just not sustainable," she said.