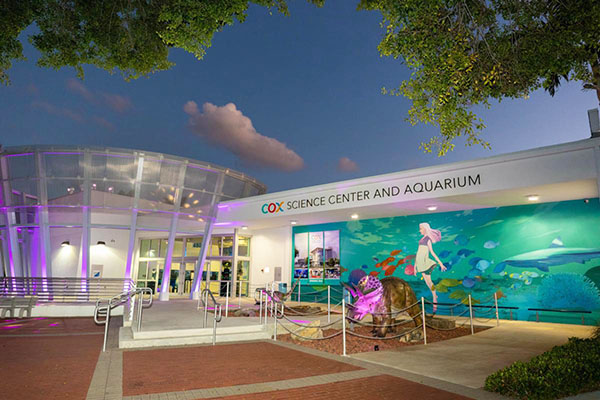 The Hearst Television-owned ABC affiliate WPBF 25 and the Cox Science Center & Aquarium in West Palm Beach recently announced an exclusive multi-year partnership.
WPBF 25 First Warning Weather, the only local team certified most accurate for 10 years, will partner with the Science Center to create an immersive weather experience. The two will work together to help local families better understand and explore the science of hurricanes, tornadoes and the ever-changing weather patterns in South Florida.
A WPBF 25 meteorological exhibit will bring together science, technology, engineering, arts and mathematics (STEAM) concepts for the community. There will be severe weather tutorials from the WPBF 25 First Warning Weather team, educational interactive pieces and photo opportunity areas.
"WPBF 25 is thrilled to partner with the Cox Science Center & Aquarium," said Caroline Taplett, WPBF 25 president and general manager. "As the No. 1 television station and leader in our viewing area for severe weather, this was a natural fit. Our trusted team of meteorologists has decades of experience in predicting weather patterns, and the synergy between our team and the deep knowledge of information on the STEAM program that the Science Center offers makes for an exciting and engaging experience for residents and tourists alike."
Science Center President & CEO Kate Arrizza is excited about this new partnership.
"We are all about community here at the Science Center, and our blooming partnership with WPBF 25 contributes greatly to our mission. Now our guests and students will have access to the latest trends in weather forecasting from local meteorologists that we know and love," Arrizza said. "It is exciting for them to showcase their expertise here, and we are confident we will inspire future scientists and a new understanding of STEAM in our everyday lives."
Since 1961, the Cox Science Center & Aquarium has provided schools and visitors with science programming, such as a planetarium, robotics and more than 100 hands-on educational exhibits, including some of the most advanced neuroscience research in the world.
This new collaboration brings even more interactive experiences and aligns with the recently announced science center expansion to debut in 2026. The new, 75,000-square-foot, state-of-the-art facility will serve more than a million visitors annually. The center is open to the public Monday through Friday, 9 a.m. to 5 p.m., and Saturday and Sunday, 10 a.m. to 6 p.m.
This partnership complements the South Florida news leader's educational outreach program, WPBF 25 First Warning Weather Class. WPBF 25 meteorologists visit classrooms during the school year, educating students in all five area counties about weather science.