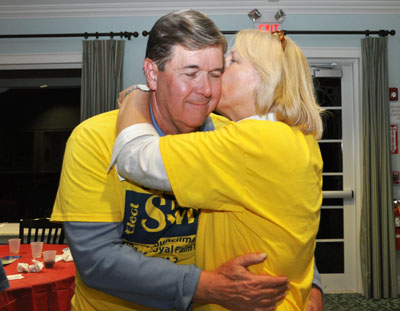 Former 20-year Royal Palm Beach Councilman David Swift unseated five-year incumbent Councilwoman Martha Webster on Tuesday to rejoin the board he left less than two years ago.
In the race for the council's Group 2 seat, Swift drew 769 votes (62.88 percent) to Webster's 454 votes (37.12 percent), with 1,223 votes cast.
Also Tuesday, Group 4 incumbent Vice Mayor Fred Pinto defeated challenger Justin Sallenbach. Pinto took 817 votes (66.64 percent) to 409 votes (33.36 percent) for Sallenbach. A total of 1,226 votes were cast in that race.
Swift said he was surprised by the lopsided outcome against a sitting council member, although he would have preferred a larger turnout.
"I thought it would be a very close race," Swift told the Town-Crier on Wednesday. "It was the same old extremely sleepy election in Royal Palm Beach with just 1,200 voters."
Swift said that he and his wife, Nixie, ran his campaign from their house. "We don't have professional consultants. We have an old computer. It was just us and our neighbors," he said. "We just did it like I've done it in the past, where you knock on people's doors and say: 'Hello, I'm Dave Swift, I'm running for council. Here's my literature.'"
Swift noted that some people, especially in his La Mancha neighborhood, recognized him, but that he also met a lot of new people.
"I had a couple of meet-and-greets, and to me the most interesting part of the campaign was meeting a whole bunch of people I didn't know before," he said. "Not only did they help, they became fanatics. They were really interested in helping."
Swift said one of his revelations during his door-knocking campaign was the level of concern over the possible future development on the old wastewater treatment plant site at the village's north end.
"The closer I got to H.L. Johnson Elementary School, the more I started meeting moms who were really concerned about commercial development in their neighborhood," he said. "The bigger issue that was always out there was the threat of commercial development increasing traffic around H.L. Johnson… There seemed to be recognition that going down that route was something we shouldn't be doing."
From listening to residents, he said the future of the land when it is developed should probably be residential with a park.
"The people would like to see residential development up there, very similar to the houses that are currently there," he said. "It would preserve their property values."
He also envisions a neighborhood park there, which he said could be made a condition of development.
Specifying a residential use for the site is one of his key goals for the near future.
"One of the things I'd really like to do in this next year is to have the council agree that this is what we're going to build here, and legally define what that land is so we don't have to go through it again in the future," he said. "I would like to put that to bed this year."
Swift said the land needs a designation other than the current public ownership it still carries from when it was a utility site. "We have to have some kind of land use up there that makes sense and is beneficial to the village," he said. "I'm not looking to make money on that, but at the same time just to have vacant land sitting there doesn't make sense. Let the residents tell us what they think."
Swift said his other goal would be to have the council get along better, pointing to disagreements between Webster and other council members that have taken center stage over the past year.
"I've worked with all these people before, and they are very easy to get along with," he said. "We're not going to have a problem with that whatsoever."
Swift pointed out that the council he was part of had more than a decade of meetings without controversy, where few people saw the need to attend council meetings, taxes were reduced, services were increased and the village prospered. "We're in good shape," he said. "Our finances are good. We have good schools. We have great parks and recreation areas. We have the same problems that other cities have with foreclosures and financial issues, but it's coming back and things are getting better."
Swift added that he got a lot of help from the Professional Firefighters/Paramedics of Palm Beach County. "They endorsed me, as well as the Palm Beach County Police Benevolent Association," Swift said.
Webster said she has enjoyed her terms in office and has been impressed with the quality of village staff.
"It has been a wonderful pleasure and honor to serve the Village of Royal Palm Beach and its citizens," Webster said. "The citizens do not realize what an outstanding professional staff the village has. They do a great job, and they should be very proud of the work that's done in that building that goes on day-to-day that they do not know about. They are diligent, really working for everyone. I enjoyed it. It was probably one of the best things I have ever done, and I wish the village the very best in the future."
ABOVE: Dave Swift is congratulated by his wife Nixie after his big win.