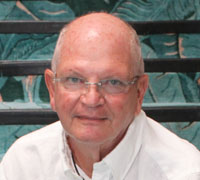 JOE NASUTI IS THE PHANTOM
The Phantom recommends Palm Beach Dramaworks' production of The Lion In Winter, now on stage in West Palm Beach.
Palm Beach Dramaworks offers the perfect holiday gift for that someone who has everything, and for that special someone with whom you would love to share your love of theater.
Come enjoy the intriue and subterfuge afoot when the curtain rises on James Goldman's The Lion in Winter, on stage Dec. 6 through Jan. 5 in downtown West Palm Beach.
Set in the court of King Henry II, the story centers on how his wife, Queen Eleanor of Aquitaine, and their three over-eager sons plot and counter-plot to force the king to name his successor.
The season will continue with Old Times by Harold Pinter, one of the most influential modern British playwrights. Drama unfolds in Pinter's story when Kate's old friend, Anna, unexpectedly visits after 20 years. Conflicting memories give way to intimations of a mysterious past and an uncertain present. The play runs from Jan. 31 through March 2.
Broadway's recent award-winning hit, Horton Foote's comedy Dividing the Estate will be the season's next offering in March. Times are tough for the Gordon family in this funny, astute play, but the matriarch of the clan has no intention of dividing her 100-year-old estate — even if her greedy children have other ideas. The play runs from March 28 through April 27.
The season concludes with the psychological thriller Tryst by Karoline Leach. Leach's suspenseful story follows the calculating and handsome con man who woos and marries vulnerable women, then takes all their money and runs — until he meets his match! The play runs from May 16 through June 15.
Palm Beach Dramaworks is a nonprofit, professional theatre and is a member of the Theatre Communications Group, the South Florida Theatre League, Southeastern Theatre Conference, Florida Professional Theatres Association, Florida Theatre Conference and the Palm Beach County Cultural Council.
The performance schedule is as follows:
Evening performances are Wednesday through Saturday at 8 p.m. and Sunday at 7 p.m.; matinee performances are on Wednesday, Saturday and Sunday at 2 p.m. Post-performance discussions are available after Sunday evening and Wednesday matinee performances.
Palm Beach Dramaworks' Don & Ann Brown Theatre is located in the heart of downtown West Palm Beach, at 201 Clematis Street.
For ticket information, call the box office at (561) 514-4042, open Monday from 10 a.m. to 5 p.m., Tuesday through Saturday from 10 a.m. to 6 p.m., and Sunday from 11 a.m. to 5 p.m., or visit www.palmbeachdramaworks.org.