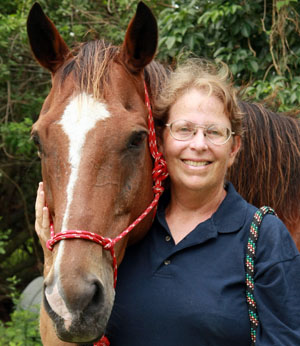 TALES FROM THE TRAILS
If you enjoy horses, either riding them or watching them, then consider paying a visit to Sunshine Meadows Equestrian Village. Located at 16668 Winners Circle Drive in suburban Delray Beach, just off State Road 7 south of Atlantic Avenue, it's one of the last large-scale equestrian venues in Palm Beach County not dedicated mainly to showing.
The more than 170 acres are home to two hunter/jumper rings, a pony ring, two open riding rings, a show ring, two FEI regulation dressage rings (one with a mirror), bridle paths and trails for hacking and pleasure riding, round pens, 18 hurricane-safe CBS barns with enough stalls to house 650 horses, 45 paddocks, a full-service kitchen, laundry facilities, on-site staff housing, plenty of jumps of every type and lots of trailer/van parking. It's open for trail riding and hacking out. No paved roads, no traffic.
In the past, Sunshine Meadows primarily catered to harness racing, and there still is a good amount of that. The three tracks are maintained daily: a mile, a 5/8th-mile and half-mile Euro track. The mile track was where the action was two Saturdays in a row, Sept. 10 and Sept. 17, when the facility hosted the FSBOA Sunshine Stakes races.
"These races are sanctioned by the Florida Standardbred Breeders & Owners Association," General Manager Brandon Mills said. "All of the horses are Florida-bred, most 2 or 3 years old, some as old as 6, both trotters and pacers. Although the winners do get a percentage of the $50,000 purse, there's no wagering on the outcomes."
It is the second time that Sunshine Meadows has offered the event.
"The first time was back in 2014, and it was so successful we decided to try it again. This is a great way to raise awareness of Standardbreds here in Florida. Some of our owners and breeders struggle a bit financially, since many of the horses travel north for much of the year and return south for the winter," Mills said. "This is also a nice way for the local community to get to know the owners and breeders, and to come out to this great facility and see some of the things we have to offer."
When I attended on Sept. 17, the riding rings were nicely full of people riding (both English and western tack), jumping, taking lessons or just walking out on trails. The horses seemed completely unconcerned with the racing going on just a stone's throw away on the wide dirt track. A group of owners, trainers and spectators perched on the bleachers, listening to the announcer call each race and watching the horses hurtle past.
Two friends who are local owners and trainers, though not of any of the horses racing that day, came to watch and enjoy the day. Irwin Lubar and Alan Hyatt watched intently as another race got underway. "This is nice," Irwin said, speaking generally of the horses, the races and the facility. "They should do this every weekend here year-round."
"This is where we live," Alan added. "At the track. Running race horses is an addiction. You know, this is how America got started. Back in the day, horses were an integral part of everyday life, and people couldn't help bragging about their horses and how fast they were. They had to race them to prove it."
Alan enjoyed the day. "Being here, in a friendly atmosphere and community like this, rather than at a racetrack, is special," he said. "And Standardbreds are special, too. Anyone can get involved with them, just regular people. You don't have to know how to ride to participate in the thrill of sitting behind a horse. It's absolutely what I like best. And it doesn't take much to get involved. All you need is a checkbook and a lack of good sense."
Peter Blood was one of the three judges overseeing the races. "This is very enjoyable, seeing all Florida-bred horses," he said. "The track is in great shape. It's nice that people who aren't usually exposed to harness racing can come here and watch. It's a lot of fun. And winning never gets old."
Mickey McNichol also watched the races — the ones he wasn't driving in. "I love doing events like this," he said. "We used to do stuff like this all the time in New Jersey, racing at all the farms. It's a lot nicer than the hustle and bustle of the track."
Mickey knows something about racetracks. He won the sport's most prestigious race, the Hambletonian Stakes, on Aug. 7, 1992, with Alf Palema.
Jamie Daley and her family also came out to watch. "I think this is a wonderful way to bring people in to learn about the sport," she said. "It's a great family event, totally free, lots of fun, and pretty exciting. This is such a friendly venue. Many times, here in Palm Beach County, when people think of a horse event, they automatically think of showing. People should take the time to stop by and see all the other things horses can do."
Sunshine Meadows Equestrian Village will be hosting a series called Champion Racehorses in Your Backyard starting Dec. 3 and running through April 15. Everyone is invited to attend Saturday mornings' "Breakfast On the Deck" to meet the trotters and pacers, see them in action and enjoy refreshments. It runs every Saturday morning from 8 to 11 a.m.
For more information, call Myron Bell at (201) 321-6353 or visit www.facebook.com/SunshineMeadows EquestrianVillage.