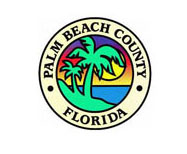 At an afternoon news conference at the Palm Beach County Emergency Operations Center, on Sunday, March 29, county officials announced plans for a COVID-19 drive-thru testing center at the FITTEAM Ballpark of the Palm Beaches. The ballpark is located at 5444 Haverhill Road south of 45th Street in West Palm Beach.
Operated by the Health Care District of Palm Beach County and Florida National Guardsmen, the collection center will be up and running on Tuesday, March 31, and is expected to be able to test up to 250 persons per day.
People wishing to be tested must be pre-approved and have an appointment before coming to the drive-thru center. Call the Health Care District testing line at 561-642-1000, beginning Monday, March 30, 8 a.m. to 5 p.m., for an interview. Anyone who shows up at the staging area without an appointment will be turned away and directed to schedule an appointment.
As of 4 p.m. on March 29, Palm Beach County had 333 confirmed cases of coronavirus and six deaths.
"As a result of this increased testing, you will see an increase in the number of positive tests," said Dr. Alina Alonso, director of the Florida Department of Health-Palm Beach County. "That is actually a good thing because now we will begin to know our real numbers."
Emergency Orders
Palm Beach County Mayor Dave Kerner clarified the scope and intent of amendments to Palm Beach County Emergency Orders 2020-02 and 2020-03A issued last week: Closed until further notice are all public or privately owned boat docks, ramps, marinas and any other venues used for launching any recreational vessels, golf courses, parks and park facilities, and community swimming pools in Palm Beach County.
"You don't get to opt out of the emergency orders just because you're a private country club. It applies to everybody," said Sheriff Ric Bradshaw. He added there is no countywide curfew in Palm Beach County and no plans at this time to order one.
Schools
Superintendent Dr. Donald Fennoy announced live and recorded distance learning will begin for home-bound Palm Beach County School District students beginning Tuesday, March 31. For details, go to palmbeachschools.org/distancelearning. The number of school meals sites in the county has been increased to 35 countywide. For a complete list of school meal sites, visit Feeding Sites.